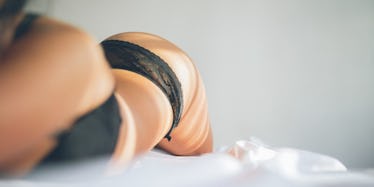 Panties And Personality: What Your Underwear Choice Says About You
Underwear is a secret a girl has with only herself, and the guy she's sleeping with. It's like a secret identity she hides under her clothes, a part of her feminine mystique she keeps tucked away from the eyes of the general public.
It's a part of a woman that belongs to her alone.
A lady's choice of panties has a lot to do with her style. You might be able to guess what kind of underwear she's got on under a pencil skirt or maxi dress. Or maybe she isn't wearing anything at all?
What a woman chooses to don under her outer garments also says a lot about her personality. Whether she prefers comfort to sexy or cotton to lace, every girl's panty preference gives a lot of insight into the woman she is.
Whether she's a go-getter or a laid-back kind of woman, you can bet her panties reflect her personal mantras as well as her aspirations.
So, what does your underwear choice say about your personality?
Boy Shorts
You're a sporty girl with a great butt. Nothing looks quite as adorable as a pair of ass cheeks hanging out the back of a pair of flirty boy shorts. You're the kind of girl who dresses for herself and your style is easy-going and free.
You're the kind of woman people depend on, one who can lead a group with comfort and ease. You're innovative and charismatic, but you're also very social and friendly.
You're a go-getter and a hard worker. You put comfort first so you can always be on your game. You don't have time to waste buying expensive, frilly panties when you have so much on your plate.
Your celebrity spirit animal: Blake Lively
Thong
You're a bad bitch. There's no argument about it. A thong is the staple of the Alpha Female, the leader of the pack. You take no sh*t from anyone.
You might be a little (read: a lot) intimidating; no one will argue you're anything but fierce.
You're the one your friends look to when making plans and you're the one they go to when seeking guidance. You're sexy as hell and definitely a man-eater.
You hold your own in every relationship and are never afraid to speak your mind.
Your celebrity spirit animal: Beyoncé
Bikini
You're into clean lines, but also staying super comfy throughout your exhausting 9-5 workday. You'd much rather be snuggled up with a marathon of "PLL" than have to slave away over a report for your boss.
Sometimes people call you lazy, but it just isn't the case. You're just super chill and would rather spend your time doing you than doing mindless bullsh*t for The Man.
You want to be dancing at music festivals, not dancing around office gossip. You don't have time or patience for other people's sh*t.
Your dream life would consist of lying on a beach somewhere, catching rays with a gorgeous man, sipping cocktails from coconuts and washing your worries away in the ocean. You were made for the island life, not life chained to a desk.
You're the ultimate free spirit, and you own it.
Your celebrity spirit animal: Jemima Kirke
Granny Panties
There are two things about you that make you likable and awesome: First, you like to be comfortable and you give zero f*cks about what anyone thinks about your underwear choices, and secondly, you're definitely quirky and you're cool with it.
Incidentally, your ginormous underwear choice also likely means you aren't getting laid often. (Sorry.) It also indicates you aren't one for skinny jeans or mini skirts.
You're a woman who prefers a date with Netflix over a date with a man, and knows the only person you've got to answer to is yourself.
Your celebrity spirit animal: Zooey Deschanel
G-String
You are a hot mama and aren't afraid to show it. You're a sexually-free woman who marches to the beat of her own drum.
You enjoy the company of men more than you do women, having always found more comfort in the male species as guys make you feel at ease. I guess there's just something about catty women that's always repelled you.
You're the life of the party — never afraid of the last shot or taking on a bet from one of your friends. You have problems with limits because you never want to stop having fun.
Your celebrity spirit animal: Miley Cyrus
Boxer Briefs
You're a laidback girl with everything on her mind but settling down. Your brain is on your next big project or your impeding promotion.
You're quiet and shy, but not meek. You like to keep to yourself because you know it's the best way to get sh*t done.
You aren't running around, desperate for new friends. You're loyal to a fault and always have your BFFs back when she needs you.
You keep your close friends close and couldn't care less if you're the belle of the ball or with everyone else.
Your celebrity spirit animal: Nicki Minaj
Commando
Did you know going commando is actually really, really good for your health? Yep, your vagina will thank you and we all know if your vagina is happy, you're happy.
You're an easy-going girl who doesn't have time to f*ck with something as arbitrary as underwear. Why would you want to make extra laundry when you can forgo the laundromat by skipping out on panties?
You're a problem-solver who'd rather spend her time enjoying the sunshine than sitting inside folding her clothes.
You live life with so much passion, and you find the endless beauty in every single thing. People admire your positive energy.
Girls want to be you, and guys want to be with you. You're genuine, and it shines through and through.
Celebrity spirit animal: Rihanna