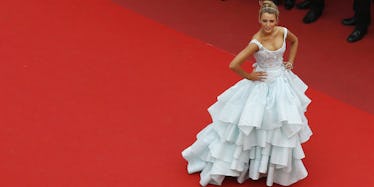 OK, Blake Lively Is Definitely Doing This Disney Princess Thing On Purpose
Reuters
I have a conspiracy theory for you. It doesn't have anything to do with UFOs, mostly just celebrities — AKA the best kind of conspiracy theory.
Blake Lively, flaxen-haired goddess and erstwhile "Traveling Pants" sister, may indeed be a real life Disney princess. It's not enough to have hunky husband Ryan Reynolds, a spunky baby and Christian Louboutin on speed dial. Now, she's living out all our childhood dreams by playing dress up or, as Hollywood likes to call it, "promoting her new film 'The Shallows.'"
On Monday, Lively hit the town early for a long day of interviews, photographs and tapings in preparation for the film's release. Although I vaguely understand it to be a long story about a shark, that's not what interests me. Rather, I'm fascinated by the way each of Lively's wardrobe choices lined up perfectly with a Disney princess's costume.
There's no way she's not purposefully messing with us. After all, this is the same woman who put her tiny, baby-bearing body in a pastel blue ballgown for the Cannes Film Festival in a totally self-aware reference to Cinderella.
Follow me down the rabbit hole, ladies, as I break down Lively's princess mania.
We start with the ballgown and a sparkly bouffant, weeks ago at Cannes. Lively captioned another shot of the outfit, "Bibbidi bobbidi bling."
Ahem.
This shot followed, captioned, "Let It Glo." We see you, Queen Elsa.
She added, "Everyone thinks I was inspired by the princesses. If they only knew…"
A week ago, the Internet lost its mind over this shot of baby Blake posing with Princess Ariel.
Which brings us to this week. First outfit of the day, a shimmery gown at 7 am.
It reminds me of a certain gown worn by Princess Rapunzel in "Tangled."
Then, Lively changed into yellow in an obvious homage to Belle from "Beauty and the Beast."
Girl, bye.
For her last magical look of the day, Lively changed into an off-the-shoulder cobalt number.
Consider this my digital mic drop. I'm on to you, girl.