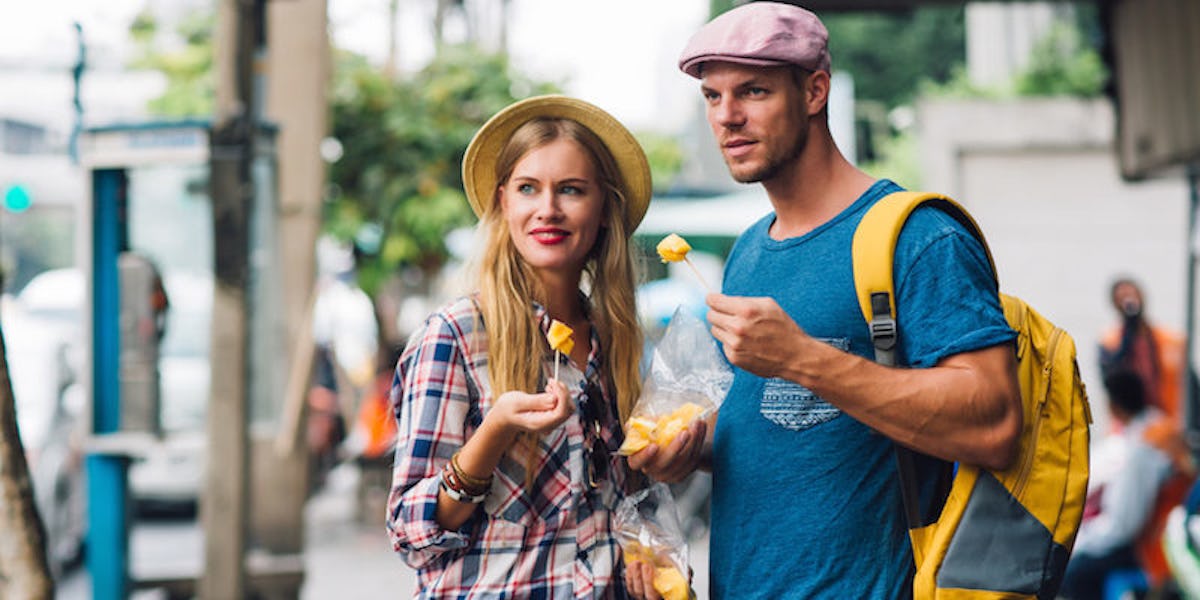 Here's How To Make 5 Cute, Bite-Size Snacks (That Aren't Cupcakes)
I'm a messy eater. I make it a point to never wear white on dates because inevitably I'll get soy sauce on my sleeve, pesto on my shoes or wine on my collar. Whoever invented those stain-proof shirts did it with me in mind.
As a result of my amateur eating habits, I'm on a perma-hunt to find the best food that won't make me look like a four-year-old with artistic tendencies. Basically, the faster I can get food to my mouth in one piece, the better it is for me and the whites in my wardrobe.
Cupcakes might be the cutest itty-bitty snacks, but they're not the be-all-end-all. There are plenty of savory options and dessert nibbles out there to have you ditching your cake fork in favor of those nifty little toothpicks.
When you can't figure out if you want chips or chocolate:
Prosciutto-wrapped melon balls are the ultimate for chicks who can never figure out if they want to go salty or sweet. The tartness of the melon balances beautifully with the satisfying kick of the prosciutto.
These two-ingredient treats look way fussier than they really are, which make them perfect for the next time your parents visit. Maybe this will distract them from your sh*tty hole-in-the-wall apartment.
Check them out here.
If you're craving a kick:
You like buffalo wings. You like meatballs. Combine the two and make your refined palate explode. Keep in mind, it's all about the sauce, so just make your own (or dip, if that's how you fly).
Check them out here.
If you're craving cheese but want to keep it light-ish:
Anything with cheese is worth losing our sh*t over, so these cheesy risotto balls are basically porn in ball form. They're way less obnoxious than mac and cheese bites, but every bit as meltingly-perfect.
Check them out here.
If  you want cake minus the commitment:
Cake is a thing of the past. These teeny whoopie pies are not only perfect for stuffing your face, but are also great for daintily nibbles. Up to you.
Check them out here.
If you're over chocolate:
These little delights are great palate cleansers after a large meal. The best part? They're no bigger than Hershey Kisses and way more delicious, too.
Check them out here.