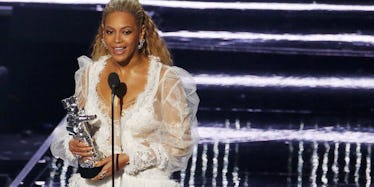 Beyoncé Wore A Wedding Dress To The VMAs Because She Does What She Wants
Reuters
Nobody puts Baby in the corner, and nobody — I mean, nobody — tells Beyoncé what to do, especially not when it comes to style.
Beyoncé changed outfits three different times over the course of the 2016 MTV Video Music Awards, not including her performance bodysuit and fur coat.
It was a good thing, too, because there wasn't much to watch besides Beyoncé. (That is, until Drake and Rihanna brought the sexual tension near the end of the show. But, I digress.)
Beyoncé's most daring look might have been the angel-wing Francesco Scognamiglio dress she wore while posing on the white carpet, but it wasn't her only style statement of the night.
The singer's final look, a diaphanous white dress, was actually designed to be worn as a wedding gown.
Oh, you only wear wedding dresses to your actual wedding? Beyoncé can't hear you over the sound of all that basic.
Regular people follow the rules, former Destiny's Child members make them. (Remember those "Survivor" get-ups?)
Spanish couture label Yolan Cris (lady owned, obviously) designed the $4,600 Calamo wedding dress as part of its "boho chic" wedding collection.
However, it's interesting to see Queen Bey making the wedding gown just a normal part of her red carpet wardrobe. Perhaps it's because she hated her own wedding dress (according to mom Tina Knowles).
But Beyoncé might also be at the forefront of a new trend.
Many celebs have already chosen to say "I do" in gowns that are re-wearable.
Just look at Keira Knightley, who's still in love with the short, pink Chanel number she's worn for years. (Granted, she also had a Valentino gown that hasn't been seen since the nuptials.)
Instead of trashing the dress or hanging it up in storage, consider spending your hard-earned dollar dollar bills on a dress that wouldn't look out of place in your regular closet.
Beyoncé just made it cool.