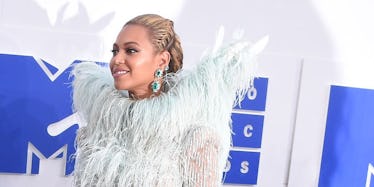 Beyoncé And Blue Ivy Just Showed Up To The VMAs In Matching Angel Outfits
REX/Shutterstock
Say what you will about Beyoncé, but the reigning goddess of the music business does not take to dressing up lightly.
The star arrived at MTV's Video Music Awards with her daughter Blue Ivy dressed as a straight-up angel from heaven, here to take away your musical sins. Showing off a feathered, powder blue collar that reached back to form delicate angel wings, she struck a pose on the white carpet.
Riding high on the success of her Lemonade album, Beyoncé paired her wings with a sparkly, transparent Francesco Scognamiglio haute couture gown and a blonde braid.
She's still the master of transformation, even though touring for months at a time would probably wear down a normal person's creative stamina.
The diva's red carpet entourage included Blue Ivy, who wore a matching angel outfit complete with an angel's halo, and a procession of models last seen in Lemonade's "Freedom" music video.
.@Beyonce and Blue!!! #VMAs pic.twitter.com/mlmKsidhbr — Glamour (@glamourmag) August 28, 2016
The final element to the look was a massive pair of drop earrings. Just one of them absolutely costs more than a down payment on the average person's house. Lest you forget, Beyoncé exists in a world far above that of us mere mortals.
For more live coverage of the MTV Video Music Awards, check out Elite Daily's Facebook page and Snap Story, elitedailysnap.