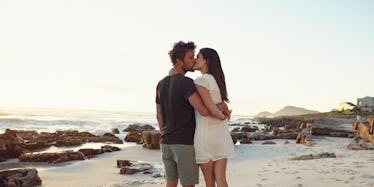 Beyoncé Discusses The Unfair Pressures Society Places On Young Women
Forget that summer tour with Jay Z — Beyoncé is continuing her tour of American press outlets, standing up for women's rights and advocating for healthier body images and role models for young girls.
In a newly-released, behind-the-scenes interview for her "Pretty Hurts" music video, Queen B is at it again.
Through a one-on-one discussion with the video's director, Melina Matsoukas, she and Bey discuss how society puts too much pressure on girls to look a certain way.
The video itself is already a powerful piece that comments on the insecurities women feel, and the grueling things they have to do to their bodies to maintain that "perfect" face or figure to get society's golden stamp of approval.
In this clip, which offers fans a look into the making of the music video, Beyoncé admits that the song was inspired by a photo of her young self standing with all her trophies and thinking: "is it worth it?"
For Beyoncé, the video represents
"...all the things that women go through to keep up with the pressure that society puts on us. Some of the things that young women go through, it's just really heartbreaking for me."
Beyoncé and Matsoukas agreed that some of the things women do to prove their outer beauty simply isn't worth it.