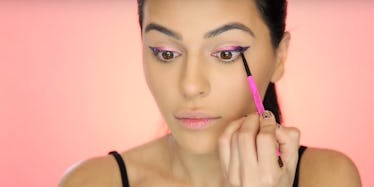 The 5 All-Time Best Pieces Of Advice From YouTube Beauty Vloggers
Teni Panosian
I watch a ton of YouTube beauty guru videos. I like to get ready in the morning with the aid of Vivianna Does Makeup, sample red lipsticks with Lily Pebbles and chill with Suzie of Hello October.
It's hard for me to find beauty vloggers I like. I'm really particular, and don't give much merit to 16-year-olds raving about anti-aging moisturizer from the comfort of their bedrooms. When I do find a beauty vlogger I'm into, I'm obsessed. Most of the girls I watch now, I've been watching for years.
While there's no shortage of terrible advice on the 'tube, there are occasional nuggets of greatness. Here are our favorites.
1. Facial massages are the key to slimmer faces.
In her "Korean Dewy Skin and Makeup" routine video, Chriselle Lim stresses the importance of applying your skincare products as a massage.
A mini facial massage, she explains, helps enhance the texture and color of your skin. It also helps tone the face muscles for a slimmer-looking face.
If it helps get me a face like Chriselle, I'm good with that.
2. You can make your own mascara, no Oreos needed.
If you want to DIY your very own mascara and the idea of putting Oreos on your eyelashes gives you hives, this tutorial from NikkieTutorials is life-changing.
Instead of putting food on her lashes, she uses an eye pencil, melts it down, scoops it onto a spoolie and applies it to her lashes. It takes a couple of layers to show up, but at least it's a safe and easy way to get some color on lashes.
3. Ombre eyeliner is just as intense as a smokey eye.
Teni Panosian's smokey eye technique might be sultry as f*ck, but her colorful liner is just as good, if not better.
Watch her use four eyeshadows as eyeliners and layer them on her lid with such intense precision, you'll get nervous watching her.
4. Heatless curls can work on any hair type.
If you're a girl with short, natural hair, you're probably so over all the YouTube beauty tutorials of girls putting their wet hair into long braids overnight and waking up with mysteriously perfect curls. What sort of unicorn human do you have to be for this to actually work? Also, sleeping on wet hair is the biggest no-no in a world of no-nos.
Jaleesa Moses first blow-dries her hair, then sleeps in her Bantu knots to wake up with super full, beautiful curls that would make Beyonce jealous.
5. Denim isn't just for clothes.
I'm a huge denim junkie, but I've yet to try it on my hair. Looks like I just might have to, if Zoe London has anything to say about it.
The blogger is no stranger to wild hair colors, but I daresay this one just might be her prettiest shade yet. The deep blue is meant to mimic the effect of jeans, which looks bomb against her porcelain skin tone.
If you were looking for a new shade to play with on your hair, this is it.