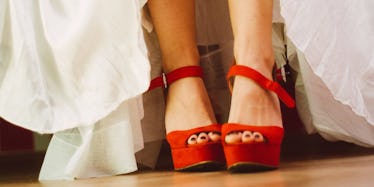 6 Trendy Places To Buy Shoes Online That Aren't J.Crew And H&M
If there are two things I inherently get, it's makeup and shoes.
Don't get me wrong: I'm no sneaker head. I don't even own an entire closet's worth of heels. But, I understand shoes. Maybe that stems from my mother, a podiatrist, who taught me the benefits of wedges before I even knew what a metatarsal was.
I'm always crazy about shoes, and not for the reasons my mother would be into. Sorry, not prioritizing arch support right now, Mom.
Every year, we have a new "it" shoe. White converse, tall chestnut UGGs and Birkenstocks come to mind. And, while I'm all for keeping my shoe closet varied, I also have a visceral reaction to wearing the same shoe virtually half the women in New York have on. This means avoiding Zara, H&M, J.Crew and the like, opting for buying most of my shoes online.
Here's how to ensure no one will copy your shoe game.
As a current resident of the Upper East Side, virtually every pair of flats I see around is J.Crew. Unlike J.Crew's Gemma or Cece styles, you wouldn't know a pair of Pretty Ballerinas flats if you saw them.
Pretty Ballerina is known for producing basic, easy-to-style shoes for everyday outfits. They're plain Jane, well-made flats that will last for years. I've worn my one pair for three years now, and I've never before had a pair of flats last me more than one season.
Pro tip: If PB's flats aren't your thing, go for its equally-sick sneakers.
If you love Nasty Gal, try Dolls Kill.
Nasty Gal basically dominates my shoe wardrobe because the brand keeps creepers and platforms in stock at all times. It definitely hurts my bank account.
Dolls Kill ranks several notches higher than Nasty Gal in style points. Each shoe sold by the online-only retailer is inspired by "Tumblr girl world, bad acid trips, underground counterculture and stylized gutter punks."
While I'm not sure if I personally identify with any of the above, I certainly have a thing for the brand's pom-pom ankle booties.
Pro tip: Come for the shoes, stay for the holographic swimwear.
If you're a United Nude fan, spring for Alejandro Ingelmo.
United Nude is coveted by street stylers and by virtually every "cool chick" I know, thanks to its architecturally-inspired footwear.
If you haven't heard of Alejandro Ingelmo, you're about to fall head-over-heels. The brand caters to the sneaker heads, the stiletto devotees and even the girl who can't let go of her flats.
Beyoncé's a fan, and so are we.
Pro tip: Be sure to check out the expansive men's selection, too.
If you're a Shop Jeen kinda gal, be sure to try Irregular Choice.
Shop Jeen, also known as the mecca of all things quirky, kitschy and cool, is a street style favorite for a reason. Chances are good you won't run into anyone else in Darth Vader slippers.
Irregular Choice is just as weird. With flamingo and bunny heels, poodle Mary Janes and all the bows you could ever want, this trendy brand's website is like Wonderland come to life.
Pro tip: If you're hunting for a pair of heels for your wedding, look no further.
If you're a Free People chick, check out Three Bird Nest.
Oh, Free People. You're the stuff of whimsical, free-spirited (read: overpriced) dreams.
Three Bird Nest has that same year-round Coachella vibe, except it's not as pricey. Ankle boots, sandals and tasseled wedges await at reasonable prices.
Pro tip: The Bird Nest also carries a plus-size line that's the stuff of curvy girl fantasies.
Frye fangirls, be sure to check out Bed|Stu.
Frye shoes are truly the OG. They're versatile, go with absolutely everything and last for years. They're also on the pricier side, which truly f*cks with my vibe.
Bed|Stu has that same "cool girl not trying too hard" appeal, and works well with everything from those skinny jeans you've been wearing five days a week to denim cutoffs for music festival season.
Pro tip: While Bed|Stu's boots are the creme de la creme, definitely take a look at its massive selection of sandals.