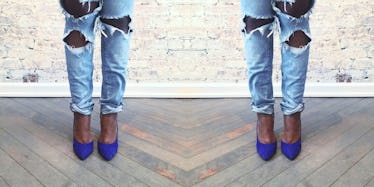 Denim Hacks: Here's How To Cuff Your Jeans To Cool-Girl Perfection
All cuffs are not created equal. Hem-handling changes with every pant cut, size and style, proving that leaving your denim as is just seems plain lazy.
As summer fades into fall, elevating your denim to match a wider range of shoes will only up your personal style.
Rolling up your jeans isn't exactly a no-brainer, though. Depending on your denim and shoe game, certain cuffs are complementary while others can fall into the dreaded "cankle" category.
If God is in the details, cuffing your jeans to perfection will take your style to heavenly heights. Here are four ways to turn up your denim.
1. The Thick Roll Up
Give your rugged, low-cut boots extra oomph with a chunky cuff.
1. Fold the pant leg upwards to create a two-inch cuff.
2. Repeat the fold once more to create a thick, solid cuff situation directly above your fall-ready boots.
3. Repeat on the other side.
Pro tip: Iron to create a smooth crease.
2. The One And Done
If any cuff is a no-brainer, this is it. Execute with loafers or slip-on shoes for a casual, clean look.
1. Expose your ankle with one solid fold.
2. Repeat on the other side.
Pro tip: Make sure each side is even.
3. The Imperfect Half-Tuck
On your daintier days, jazz up your pumps with a cuff that's femme, yet still preserves your edgy style.
1. Fold your pants upwards to get a one-to-two-inch cuff.
2. Grab the outer half of the cuff and fold upwards once another inch or two.
3.  Be sure to leave the inside cuff as is.
4. Repeat on the other side.
Pro tip: Don't perfect this cuff with an iron. The messier, the better.
4. The Skinny Roll And Scrunch
High boots beg for sole attention, but your denim doesn't have to be its understudy. Compliment your shoes with a simple cuff.
1. Fold your pants upwards only an inch.
2. Scrunch and bunch your jeans above the cuff generously.
3. Repeat on the other side.
Pro tip: Make it look as effortless as possible.