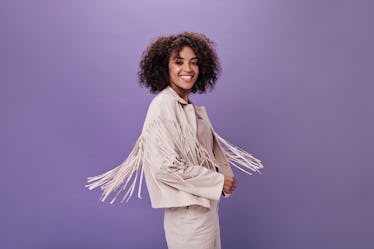 How To Wear Fringe Without Looking Like You Are Late For Coachella
Shutterstock
Fringe doesn't exactly have a great reputation. It's synonymous with Vanessa Hudgens, Nicole Richie post "The Simple Life" and the douchiest festival of all, Coachella.
Sure, we're all about getting a fringe-tastic bag or shorts à la Alessandra Ambrosio, but that wouldn't be fair. Fringe is versatile, so vetoing out-of-the-box outfits is like saying "No, thank you" to a world of sartorial possibility.
Take a look at our favorite ways to wear fringe and not look like a boho-chic clown.
Super-important Monday meeting
Lesson number one: Keep an eye on the cut. Vertically-cut fringe has the tendency to look faux boho and kind of trashy if done wrong (and it usually is).
A horizontal cut is not only unexpected, it's sleeker. The pencil skirt is also cut close to the body, which balances out the additional volume that the fringe creates. The length is also relatively short, so it won't awkwardly slap against your leg as you're running to hail a cab to your next meeting.
When your mom finally convinced you to grab dinner
Lesson number two: Fringe is all about fabric choice. If you choose suede or cotton to show off that fringe detailing, you're going to look like you're working a summer job in a ghost town.
Tweed is an unexpected choice because it's super classy, and your parents will be impressed that you can own something in the material without snagging it. Pair with pointy-toe flats and a metallic clutch (you're probably going to ditch the 'rents to get some drinks after). Besides, if they're paying for your meal, you have to look like you put some effort into it, right?
Last-minute drinks date
Lesson number 3: More fringe doesn't always translate to more fun. Try a small fringe panel (like the one on this leather skirt). It's just as sexy but not as Coachella-friendly as this skirt would be if it was covered in the stuff. Pair with a cropped white button-down because you probably just got out of work anyway and don't want to dig through your laundry pile to find a prettier option. Strappy pumps will always be sexy, and a gold choker will give him all sorts of kinky thoughts.
Dinner with your old college roommate
Lesson number four: Always keep color in mind. Fringe detailing is usually on brown or black suede, so this pastel pink totally comes out of left field (and in a good way).
Keep things classy (read: no club attire) by pairing the Pepto Bismol pink skirt with a crisp white button-down and black sandals.
Add a bit of mod flair to the outfit by opting by an oversized pair of round sunnies -- we can totally see Ashley Olsen rocking this Marc Jacobs pair -- and a graphic clutch to say what you can only get yourself to say after a drink (or ten).