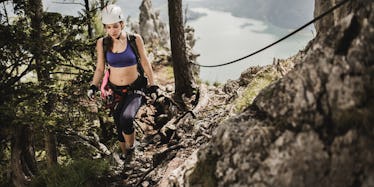 Woman Elegantly Recreates 100 Years Of Black Hairstyles In One Minute (Video)
Stocksy
You may have seen Cut Video's 100 Years of Beauty In One Minute, a video in which a woman models the past century of beauty looks, transforming -- with the help of hairstylists and makeup artists -- from a 20s-era flapper to a 40s pin-up girl to a 90s grunge queen.
Well, the video was so popular, that Cut Video decided to revisit the concept and created a similar time lapse, this one featuring an African American model named Marshay.
Through hair and makeup changes, she's taken through every decade from 1910 to 2010 -- and it's just as stunning as the first.
Beauty standards -- or the grounds for them -- are something we rarely think about in this sense.
It's so interesting to see how the beauty ideal has changed throughout history and imagine how it may change in the future.
Check it out up top.