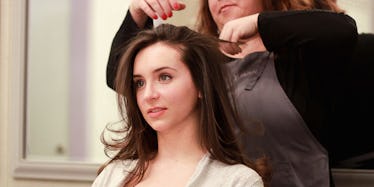 A Professional Stylist Reveals How You Can Get Your Hair To Grow Out
On the scale of 0 to the worst thing you could possibly imagine, getting a horrible haircut is about a 1.5. But still, it often feels like the end of the world.
Unless you've been graced with such good luck you've never experienced an unflattering chop, you understand what it means to leave the salon in tears. But we do.
You schedule an appointment because you've been feeling restless and you're looking for a change. You need a haircut. You know you're a little late on the lob trend, but you're pretty sure you could still pull it off.
You screenshot about 15 different pictures of Reese Witherspoon, Zosia Mamet and Lauren Conrad, confident you won't mind waking up an hour earlier so you can blowdry and style your new look.
Right after the hairdresser spins your chair around to show you the cut that was supposed to channel Jennifer Lawrence's perfectly clipped mane, your jaw drops way past where your newly-chopped hair used to fall.
Shocker: You look more like Kris than Kim.
Elite Daily spoke to Nick Arrojo of ARROJO NYC and "What Not To Wear" fame in order to find out everything you need to know about growing out your world-ending, too-short-for-a-ponytail haircut.
Here's a tip: It gets better... it just takes awhile.
1. Watch what you eat.
Your diet doesn't just affect how you fit in your jeans. Nick warns crash diets have the ability to "stunt hair growth," and diets "low in healthy fats and proteins" won't make your mane grow any faster. In fact, it can actually cause you to lose the hair you still have.
Just stick to well-balanced, healthy meals, and your hair will keep growing at the average rate of a half-inch every month.
2. Stop wasting cash on monthly trims.
Yep, according to Nick, "It's a myth." While trimming your hair makes it look thicker and healthier, it still makes it shorter. He suggests having your hair cut less often but being "more liberal when you do get it cut."
I know, my mind is blown, too.
3. Take some vitamins.
More specifically, take some Vitamin B12 supplements. You can find vitamin B in dairy products, fish and meat, and B12 is often advertised in a variety of hair products. Biotin has also been known to speed up hair growth.
Nick suggests trying different fortified products to see which your hair responds to best. "If you feel great, you're winning," asserts Nick. And sometimes a little pill is all it takes.
4. Master a new 'do.
Instead of stressing about how short your hair is, Nick recommends making an appointment with a professional "to learn different ways to style it." Sure, this doesn't speed the hair-growth process, but it does keep you from strictly focusing on your uncomfortable change in length.
And, if you're able to, Nick thinks it's best to "wear [your hair] natural" as much as possible, and "use pins and clips to keep the style looking modern" while you're growing your hair out.
5. Hair health is just as important as hair growth.
You might be worried about the hair that hasn't grown yet, but you can't forget about the hair you still have. Nicks reminds us chemical processes, "tight styling" and "excessive coloring" can cause breakage, which can make "hair feel like it's not growing."
Even if your hair is damaged from straightening and highlighting, you can still recover. Your scalp probably hasn't suffered too much; it'll still sprout hair at the same, painstakingly slow rate. Just keep it clean because, according to Nick, "a clean scalp is important to hair growth."
6. Patience is a virtue.
Nick says hair grows in a "seven-year cycle." It's natural, and you can't really change it. So while you're constantly pulling your hair out of the clogged shower drain and sweeping it up off your apartment floor, your hair is replenishing itself.
Remember, you're not Barbie: It takes time, but it'll grow back.