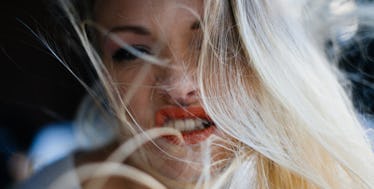 Finally, A Beauty Guide For All The Products You Have No Clue How To Use
My first experience with makeup took place at the "cosmetics store" in my hometown: Walmart. Armed with $15, absolutely no knowledge of brands and I-just-turned-13 stubbornness, I purchased the sparkliest, cheapest eyeshadow out there.
Long story short, my eyelids broke out and I was scarred from using makeup for the remainder of my adolescence.
It's been solid 10 years since the episode with the World's Most Heinous Eyeshadow.
I've grown up. I wear mascara. I've even learned how to wear red lipstick, but walking into Sephora is still overwhelming and confusing.
I couldn't give you a coherent definition of what a luminizer does or explain the key differences between foundation and concealer if my face depended on it.
But, it's not just my lack of expertise making my head spin in the aisles. Makeup is confusing. Magazines and beauty bloggers bombard us with cosmetics promising to change our skin for the better.
About 30 different products claim to rid our faces of under-eye circles.
We're pretty sure if we ask an employee for help, we'll be told we absolutely need these five products, and if we only spend about $150, our lives will never be the same again. Understanding which products do what for your skin shouldn't be this difficult.
In order to clear up any confusion, Elite Daily spoke to Los Angeles-based professional makeup artist Jenna Kristina and Rebecca Perkins, professional makeup artist and co-owner of Rouge, a makeup salon she cofounded with Stephanie March, and got the lowdown on some of the most seemingly basic cosmetics.
CC Cream
[caption id="attachment_974171" align="aligncenter" width="600"] Sephora[/caption]
What it does: Also known as a "color or complexion corrector," a CC cream is similar to a BB cream, but a little more potent.
CC creams improve coloration, whereas BB creams smooth everything out. (Still confused? Get familiar with WTF BB cream does.) Perkins describes it as "the eye cream to BB's face cream."
How to use it: Your fingers are the easiest way to apply the product.
When you'd use it: When you're going out and you know you tend to get a little red in the face after you throw back three shots.
Pro tip: Read the fine lines, but don't expect everything the product promises.
Perkins says there's a lot of "marketing jargon at this point," so a separate moisturizer, sunscreen and foundation will give you more protection and coverage than just a CC cream.
Face Primer
[caption id="attachment_974179" align="aligncenter" width="600"] Sephora[/caption]
What it does: "A primer is used to smooth out your skin and hold your makeup on longer," says Kristina.
How to use it: "I always recommend using a moisturizer first; it's always necessary even if you're oily (just use an oil absorbing one)," Kristina adds. "Then apply your primer."
When you'd use it: Your day is packed with meetings, you're running in and out of the office and then you're meeting friends for happy hour.
Pro tip: A face primer isn't ALWAYS necessary. Unless your skin tends to be a bit oily, a good moisturizer and a face mist will keep your makeup on throughout the day or night.
Luminizer
[caption id="attachment_974183" align="aligncenter" width="600"] Sephora[/caption]
What it does: Kristina advises a luminizer "gives your skin a nice healthy glow when applied to the higher points of your face, like your cheekbones."
How to use it: Luminizer comes as either a powder, cream or liquid. For a quick and easy application, add a drop of luminizer in your tinted moisturizer or foundation, and apply wherever you think your skin could lose a little brightening (cheekbones, corners of your eyes).
If you'd rather not blend your products, you can dab the luminizer in those same areas over other makeup.
When you'd use it: Girls' nights out when you know you're going to be taking a lot of pictures -- you'll want to glow on Instagram.
Pro tip: When looking for a luminizer, Perkins suggests finding a "very finely milled" product. You don't want to choose a luminizer with chunks of glitter, it'll only accentuate the lines on your face and remind you of your early days of makeup experimentation.
Toner
[caption id="attachment_974186" align="aligncenter" width="600"] Sephora[/caption]
What it does: "A toner works well to balance the pH level in your skin," Kristina says, adding it also helps "remove any leftover residue."
How to use it: Grab a cotton pad doused with toner and lightly wipe away any of the makeup or dirt left on your skin. Make toner part of your daily routine if you don't see any negative side effects (like dry skin or irritation).
When you'd use it: After you wash off your makeup.
Pro tip: Make sure your toner doesn't have an alcohol base, which could irritate your skin and cause more damage. For a safer pick, stick with a water-based toner.
Setting spray
[caption id="attachment_974193" align="aligncenter" width="600"] Bloomingdale's[/caption]
What it does: Setting sprays are used to prolong your makeup.
You won't stress if your foundation is smearing across your face, making you look drunker than you are because you know it's in place -- and staying that way.
How to use it: Finish your entire beauty routine and hold the spray about an arm's length from your face. Spritz a couple of times and let dry.
When you'd use it: Right before you scramble out in the morning.
Pro tip: A setting spray with a little bit of glycine, will help "take away any 'makeup-y' (cakey/powdery) finish and melt the makeup into the skin," says Perkins. The last thing you want is your setting spray leaving any sticky residue behind.
Tinted Moisturizer
[caption id="attachment_974196" align="aligncenter" width="600"] Sephora[/caption]
What it does: Moisturizes, obviously, and gives you a little coverage. It's similar to a BB cream, but without a primer creating the soft layer beneath the product.
How to use it: Apply with hands or a brush. Kristina notes, "Just conceal any spots or under-eye and you're good to go."
When you'd use it: Kristina also says tinted moisturizer is "perfect for when you just want to even out the skin tone but don't want to be fully covered."
Pro tip: Once you find a tinted moisturizer that works for you, keep it; buy it in bulk; take it with you everywhere. It's good for your skin all-year round, and with a little eye shadow and lip balm, you can look put together without actually spending time applying your makeup.