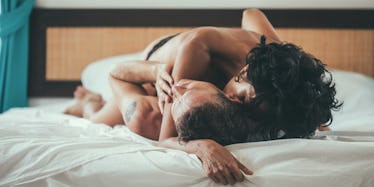 Beauty's Latest 'It' Buy: The Science Behind BB Cream
Stocksy
After realizing I'm in my mid-20s, with countless late nights and boozy endeavors appearing on my face, I need to start prepping my skin in the morning. Like a true rookie, I began with pumps of both moisturizer and foundation, mixing the creams in the palm of my hand and smearing it all over my face. This will work, I told myself.
But it didn't occur to me I was doing anything wrong until my roommate suggested I simplify my routine with BB cream. It's like the all-inclusive resort of skin coverage. But what exactly is BB cream?
How does it work? What's in it? Why has it become such a crucial component in our everyday beauty maintenance? Is it just a fad or is it here to stay? And which should you buy?
BB creams have officially flooded the market -- and everyone from Great-Aunt Terri to my 13-year-old cousin is carrying it around in her bag. It's like the hot, new, trendy green juice. So naturally, I had to get to the bottom of this.
Here's everything you need to know (the science and the satisfaction!) about beauty's latest 'It' buy: BB Cream.
A little history lesson:
BB stands for "Blemish Balm." Once upon a time, German dermatologist Dr. Christine Schrammek developed the cream to protect and soothe her patients' skin after chemical peels.
It first gained commercial appeal in Asia, where a blemish is looked at as any sort of skin discoloration (skin tone, age spots, sun spots, etc.), not necessarily just acne. It was touted for its "porcelain skin" effects.
Soon, BB cream was picked up by Western markets and became extremely popular in the United States. In spring 2011, it was all over the US market and had even taken on a far more appealing name: "Beauty Balm."
Why it's worth every bit of the hype:
BB cream provides a combination of skin benefits you'd normally get when using five or six different products. Instead of needing an endless supply of creams and lotions, BB does all the work fro you. It evens your skin tone, hydrates your skin, provides sun protection, works as a concealer and provides your body with antioxidants from vitamins C and D, which help combat signs of aging.
Unlike tinted moisturizer (which simply provides minimal coverage with lotion properties) or foundation (which is more makeup than Rx, unless you find one with specific add-ins), this well-rounded Beauty Balm provides more benefits for your face than any other cream on the market.
Makeup artist Sarah-Jane Beatty of Sarah-Jane Makeup Artistry agrees, saying,
BB cream is your all-in-one beauty item, containing versatile coverage in one easy-to-apply product. No brush required, you can spread a sheer coat over your skin for a natural and effortless look.
So, how the hell do you work it into your morning routine?:
OK, we know BB cream sounds overwhelming, but it's pretty simple to use. You don't need a brush or a special sponge; you just apply it to your face with your fingers. Kim Roberts, the Director of Customer Experience at Kiehl's, adds,
It speeds up your morning routine by giving you Vitamin C antioxidant protection, SPF sun protection, all-day hydration, and pigmented coverage in one simple step.
So, if you don't feel like arduously painting your face to look like an airbrushed Kardashian, BB cream is the prime product to take you from bed-to-beautiful in a matter of seconds. And since you're using it in place of products, your routine might even be shorter.
If you're still having separation anxiety from your favorite foundation, Roberts suggests to follow your regular skincare routine with BB Cream, then add foundation. "Layering gives you all-day coverage for the longest days."
What you should look for before you buy:
Beatty suggests looking for BB creams with SPF, vitamins like C and E, and antioxidants from green tea or other natural extracts. The more you're getting from your product, the better it's doing for your body. Beatty adds,
Hyaluronic acid is added to many products as an anti-aging agent and salicylic acid may be found in some to keep breakouts under control.
And here's the icing on the cake: A good BB cream can actually help improve your skin over time. Yep, it isn't just covering up the blemishes; it's actually working for your skin.
The key is to look for the purest ingredients and make sure you're getting the highest SPF possible.
So, should you shell out the dough or play it safe?
Even though you're used to grabbing the Cetaphil and getting the heck out of CVS, you can't get away with going the budget route for BB cream. (Sorry.)
When it come to your Beauty Balm, both Roberts and Beatty suggest making an investment and going for a more expensive brand. You'll be glad you did (even if your bank account isn't). As Beatty puts it,
The difference between all drugstore vs. luxury brand makeup is the more expensive brands use purer ingredients and less fillers.
Beatty suggests Dior Diorskin Nude BB Creme while Roberts recommends Kiehl's Skin Tone Correcting & Beautifying BB Cream SPF 50.
Dior Diorskin Nude BB Creme, $45, Sephora; Kiehl's Skin Tone Correcting & Beautifying BB Cream, $37, Nordstrom 
Moral of the story: You pay more for better-quality ingredients. And since your BB cream is the first layer applied to your skin, it's important to use a wholesome product that makes you feel as good as you look.