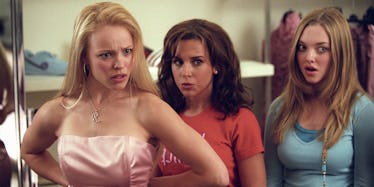 There Are Finally Emojis To Sum Up Why It's Taking You So Long To Get Ready
Paramount Pictures
It's 7:15 pm, and the party starts at 7:30. You're going to be late by at least half an hour, especially since your hair is sopping wet and you haven't even begun your fake-and-bake tan. Getting beautiful is hard.
Instead of texting your girlfriends the old-school anguished emoji, L'Oreal suggests an alternative. The beauty brand just launched a collection of "Beaumojis," emojis dedicated entirely to the art of getting glam. Need to let your boyfriend know touching up your roots is burning your scalp? There's a woman with her head wrapped in foil. Having a great eyebrow day? The "eyebrows on fleek" will do.
There's even a section devoted to cult beauty products. If your jerk friend still hasn't given back your much-loved Naked eyeshadow palette, there's an emoji for that. Or, you can just harass your co-workers with them like I did.
Since there are 130 emoji options, you'll never run out of ways to illustrate your most confounding beauty crises. Did you spill nail polish on your carpet? There's an emoji for that. Well, sort of — you'd have to combine several images like fabulous hieroglyphics.
Notably, the Beaumoji app also includes the most diverse assortment of people I've ever seen pictured. Kim Kardashian's Kimoji might feature black Jesus, but this app has it all: Men applying foundation, gay couples, Asian women and blended families. There are even redheads.
Rachel Weiss, L'Oreal's Vice President of Innovation and Entrepreneurship, said in a press release:
We know the online conversation around beauty is huge and continuing to spike along with the shorthand language of emojis. We saw an opportunity to provide expressions and tools for our beauty community that reflect the daily conversations we see happening.
In other words: Beauty geeks, your time has finally come. No one could survive with the 10 pre-existing emoji. After all, there's more than one shade of lipstick.