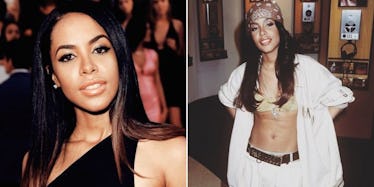 More Than A Woman: Why Aaliyah Is Still Relevant To Your Life Today
Let's put an end to all "If Aaliyah were still alive..." chatter now.
Though Aaliyah was tragically killed too soon in a plane crash on August 25, 2001, the star power she left behind still resonates deeply with fans and critics alike.
Reliving that fateful day is painful, but her influence still remains.
Her standout talent amongst artists then and now is no longer up for debate, having been proven time and time again with each passing year.
Because her relevancy spans generations, the Brooklyn-born, Detroit-raised singer now sits in an iconic stratosphere, even though we never got an opportunity to witness her full potential.
So even if you're not intimately familiar with her music, her inspiration trickles down to artists, fashion trends and #MCMs you love. Don't believe me?
Here's how Aaliyah still influences us 14 years after her death.
You still want to dress like her.
Her laid-back style made her magnetic.
Unlike her fellow musicians at that time, she wasn't overly concerned with fashion, baring her mid-drift with confidence and showing off her hips in dangerously lowrise pants.
She mixed youthful silhouettes with baggy, edgy threads –– a tomboy-esque style duplicated today by Ciara, Sevyn Streeter, Tinashe and Zendaya.
Trust me, we're all dying to reach Aaliyah levels of cool.
Her crossover appeal influenced your faves.
Before J. Lo and Beyoncé's acting careers took off, Aaliyah's was already budding.
Her 2000 debut, "Romeo Must Die," alongside Jet Li, was a hit. Later, she went on to flex her acting chops in "Queen of the Damned."
We can't credit Aaliyah entirely for opening doors for singers hoping to gain silver screen time, but we will say she was one of the first of her R&B class to receive acclaimed crossover nods.
You play her entire discography. Always.
Maybe it's nostalgia or the fact that you wanted to be in love just to write a dude a lengthy love note, but "Four Page Letter" is a musical gem that can't be replaced.
Other chart-climbing tunes like "Are You That Somebody?" and "Rock The Boat" also assisted in solidifying Aaliyah as a unforgettable star.
Turn up any of these timeless jams at a party and watch it receive a response better than any current radio hit.
You want men to love you the way they love her.
Drake's Aaliyah-sampled "Unforgettable" and back tattoo confirm men still regularly pledge their allegiance to the late star's beauty and spirit.
The Boy, along with Aaliyah's former record exec boyfriend Damon Dash and producer Timbaland, have declared their undying love for her in several interviews.
They downright worship her, making fans want to either be her or be with her even today.
He circle of powerful women made you scream #SquadGoals.
How amazing is it to work and play with your best friends?
Baby Girl's clique consisted of hip-hop heavyweights like Biggie, Puff Daddy, Missy Elliot, Jay Z, Tupac and Timbaland, who she collaborated with often. Even her partner-in-crime, Kidada Jones, is Quincy Jones' daughter.
She lounged and laughed with legends on any given day, making several cameos in classic music videos by her co-ed squad –– the epitome of #goals.