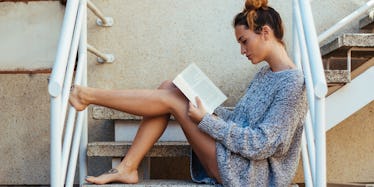 5 Motivational Books That'll Help You Through Your Post-College Life Crisis
Susana Ramirez
I've been on a nonfiction book bender lately. It makes the experience of being crammed between strangers on the subway far more pleasurable.
In fact, I've started to enjoy reading so much, I've traded in my pre-bed ritual of scrolling through Instagram for 15 minutes -- a nice break for my thumbs. I like a book that gets me amped up, teaching me skills that I'll be able to use in everyday life.
If you're figuring out how to switch careers, communicate better or save money, there's a book out there to get you inspired to change and motivated to take action. Books have helped me proactively make changes, instead of just whining about my problems. I learned about taking control of my money and beginning a side hustle.
If you feel like your life could be better, do something about it by cracking open one of my favorite how-to guides.
When you want to master productivity, finally.
Read: "The 4-Hour Workweek" by Timothy Ferriss
Whether you're an aspiring entrepreneur or have no desire to work for yourself, you'll find something helpful in this book. Ferriss' hacks on how to work productively instead of getting sucked into your Gmail inbox all day are a great reason to read "The 4-Hour Workweek."
I honestly couldn't put this one down. Ferriss supplies his readers with heaps of resources and offers a step-by-step long term plan for achieving goals. Reading "The 4-Hour Workweek" made me confident that one day I'll be able to take a year off and snowboard all around the world (a personal goal of mine) if I make concrete plans to do so.
My favorite takeaway: "Don't ask for permission; ask for forgiveness."
When you feel like you need a crash course in money.
Read: "I Will Teach You To Be Rich" by Ramit Sethi
In "I Will Teach You To Be Rich," Sethi breaks down becoming rich into a weekly plan. Not only is the book packed with information about getting out of debt, purchasing a car, and investing, but it's also hilarious.
Read this book if you feel utterly clueless about personal finance, because you'll come away with a newfound confidence. Sethi proves that you don't need to be an expert, you just need to start somewhere. He provides a methodological approach to making your bill payments automatic and even includes scripts for negotiating with credit card companies.
My favorite takeaway: "There is a limit to how much you can cut, but there is no limit to how much you can earn."
When you want to make money doing what you love.
Read: "Born For This" by Chris Guillebeau
Winning the career lottery feels a lot more tangible after reading Chris Guillebeau's new book "Born For This." This book helps you figure out the work you were meant to do, and even includes thought exercises to guide you along the way. It includes doodle-like charts to help you visualize abstract concepts.
While reading "Born For This," I felt like I had guidance from a personal life coach. Guillebeau does an excellent job pointing readers in the direction of where money and passion meet.
My favorite takeaway: "If plan A fails, remember there are 25 letters left."
When you need to figure out what matters most.
Read: "The 7 Habits Of Highly Effective People" by Dr. Steven Covey
This book is a bit more "heady" than the others on this list because it's grounded in the practice of solving problems from inside out. It can take a while to turn the seven principles into habits, but just reading the book will get your mental gears turning.
Dr. Covey's writing is easy to understand. He inspires readers to flip their perspective on life upside down, which is pretty much the first step toward legitimate change. Plus, the book will completely blow your mind when it comes to a new approach to prioritizing.
My favorite takeaway: "The challenge is not to manage time, but to manage ourselves."
When you want to kick stress in the ass.
Read: "Don't Sweat The Small Stuff" by Dr. Richard Carlson
This book is the closest I've ever gotten to actually meditating, because Dr. Carlson's writing is insightful and soothing. It contains 100 strategies broken down into short essays for working through daily struggles. Like "7 Habits Of Highly Effective People," the book emphasizes the importance perspective in the way you see your problems.
"Don't Sweat The Small Stuff" focuses on the idea that the way we feel comes directly from the way we think. The strategies range from slightly vague, like being happy where you are, to more practical, like becoming an early riser.
My favorite takeaway: "Your inbox won't be empty when you're dead."
Reading is the best way to engage your mind and figure out your life in a relaxing way. The more you know, the more motivated and confident you'll be about taking action.