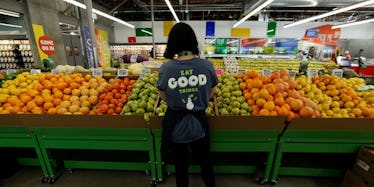 These Are The 6 Disgusting Things The FDA Found Wrong With Whole Foods
REUTERS
Whole Foods is one of the most popular choices for quick, healthy grab-and-go meals. Loyal Whole Foods customers can always expect healthy, organic meals and the occasional weird, overpriced product. From pasta to salads to breakfast, customers can rely on the quality of the ingredients and taste in Whole Foods prepared meals.
Or can they?
Last week, The US Food and Drug Administration sent a letter to Whole Foods describing "serious violations" after an inspection at a plant in Massachusetts. This plant, which underwent five inspections between February 10 and 26, specifically produces Whole Foods' ready-to-eat grub distributed to 74 stores in New Hampshire, Maine, Rhode Island, Massachusetts, Connecticut, New Jersey and New York.
The warning letter said,
These violations cause the food products manufactured at your facility to be adulterated [...] in that they were prepared, packed or held under insanitary conditions whereby they may have been contaminated with filth or rendered injurious to health.
Yikes. So, what was so bad about this plant's conditions? Let me tell you just some of the dirty details.
Several of the prepared food dishes were being assembled in a room where condensation from the ceiling was dripping. So that's cool. These dishes include pesto pasta and mushroom quesadilla. Thank you, FDA, because no one really wants a side of ceiling crud in his or her lunch.
This drippy ceiling caused a lot of problems for this plant. Apparently vegetables like beets and chives were being cut and prepared "directly underneath a leaking condensate drainage pipe in the Veg Prep Room."
Uncovered ready-to-eat egg salad was placed below a condenser, where the condensate was dripping by the second. Some employees were also seen handling the egg salad and touching other surfaces without changing gloves. Yuck.
For whatever reason, uncovered vegetable dishes were placed next to a hand-washing station where dirty hand water splashed directly onto them. Thanks plant employees for washing your hands, but that kind of defeats the purpose.
Employees were also washing their hands at a sink labeled "out of service" because the water temperature wasn't right.
OK, this one is especially bad:
On February 16, 2016, your employee in the Pre-Pack Room was spraying [...] quaternary ammonium-based sanitizer to clean work surfaces while another employee in close proximity was packaging exposed ready-to-eat mesclun salad. This resulted in the sanitizer being sprayed onto an open colander of salad leafy greens.
Salad and hand sanitizer aren't exactly a good mix.
During the inspection, the FDA also took swabs from equipment, food contact and non-food contact surfaces in the plant. It found a few different types of Listeria, which is a bacteria found in food that can cause infections. Basically, these facilities were not clean enough to properly prevent food-borne illness.
It doesn't stop there, though. The FDA also found raw meat in the plant that wasn't properly sanitized before being cooked:
You failed to keep soiled dishes separate from ready to eat products and you are using portable divider curtains and semi-permanent divider curtains to segregate areas between the dishwashing room entrance/exit doors and the Assembly Room where ready to eat products are assembled. Soiled and insanitary equipment from various preparation processes including holding of raw chicken and turkey were observed touching both sides of the portable divider curtains.
You can read the full letter on the FDA's website with all of the violations. The FDA has given Whole Foods two weeks to respond with ways it will specifically fix these problems in the plant.
This is why I cook my own food most of the time. You never know when your food could be contaminated because of the careless practices of the food plant where it was prepared and handled.
If Whole Foods is your go-to for prepared lunches and dishes, I would think twice (especially about the egg salad).