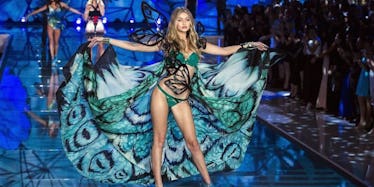 The Salad Gigi Hadid 'Could Eat Every Day' Is Easy To Recreate For Yourself
Reuters
Remember when Khloé Kardashian revealed what all of her sisters normally eat in a day?
Well, it turns out Khloe isn't the only celebrity spilling the beans on what foods the stars eat to stay thin these days.
In a recent interview with Harper's Bazaar, Gigi Hadid also dished out the deets on her daily diet.
When it comes to maintaining a smoking-hot model bod, Hadid is all about balance.
In fact, this supermodel lives by the simple mantra, "Eat clean to stay fit, have a burger to stay sane."
Hadid typically starts her days off with scrambled eggs, bacon and toast, alongside coffee and a glass of OJ.
Plus, Zayn totally has his supermodel girlfriend hooked on British breakfast beans.
Since Hadid is a firm believer that burgers are a necessary part of a healthy diet, she'll treat herself to a cheeseburger from NYC's JG Melon every now and then.
However, this supermodel's go-to lunch normally consists of salads. Apparently, her favorite leafy lunch is the arugula salad from a restaurant in New York City called The Smile.
If you're wondering what's in this almighty meal, it's basically just a big bowl of arugula topped with roasted grapes, steak, a sprinkle of parmesan cheese and a drizzle of dressing.
When she's not eating breakfast beans with her British bae or vegging out at The Smile, Hadid likes to nosh on small, healthy snacks throughout the day.
Hadid recently told Self, "In the fridge, I always have Evian, soda, orange juice, and lemonade. Then, I have my favorite snacks like salami, chips, hummus, carrots, and fruit."
Gigi's Instagram proves she's also a big fan of snacking on cereal.
As far as dinner is concerned, Hadid loves to eat sushi and stops by BondST, also in NYC, on the reg to score her favorite rolls.
When she's not hitting the town with her famous BFFs, she likes to cook at home and cozy up on the couch with a movie.
You'll be glad to know this supermodel also incorporates some sweets into her diet. Hadid's favorite dessert is ice cream, especially grasshopper pie ice cream.
Citations: What Gigi Hadid Eats (Teen Vouge)