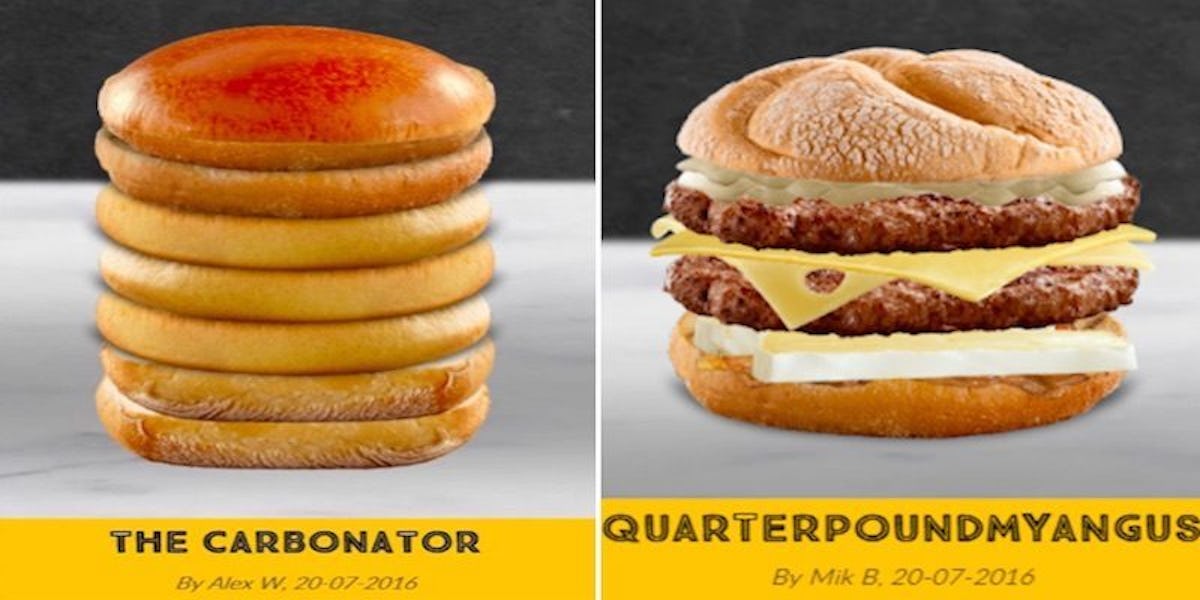 McDonald's Let People Design Their Own Burgers, And It Went Downhill Fast
McDonald's New Zealand
If there's one thing we can learn from the countless Photoshop battles online, it's that you should never ask the internet for help.
Case in point: McDonald's latest online contest.
To celebrate its new in-store touch screen, McDonald's New Zealand recently ran a "Create Your Taste" campaign with an online contest that encouraged customers to get creative with their food.
The contest allowed people to build and name customized burgers, and then post the final product on McDonald's NZ webpage where others could vote for the best bougie hamburger creation.
Although McDonald's had enough foresight to put a curse filter on its burger submissions, this didn't stop the internet from finding a way to get around this minor inconvenience and make the fast food chain seriously regret its ingenues idea to host an unmoderated contest on the web.
It didn't take long for this seemingly innocent sandwich contest to take a turn for the worst, and once the homepage transformed into a shit show of filthy and offensive burger creations, McDonald's finally pulled the plug on its promotion.
Check out the pictures below to see some of these hilarious burger creations:
To celebrate the launch of the new "Create Your Taste" touch screens, McDonald's New Zealand held an online contest that let people create and name their very own custom burgers.
Then, they could save their unique recipes on the McDonald's NZ webpage, so people could vote for the best ones.
Despite the fact this online contest was largely unmoderated, things seemed to be going surprisingly well.
That is, until last night, when everything suddenly went to hell.
Yep, it turns out that people started abusing the contest by coming up with some pretty comical renditions of the classic burger recipes...
...like this towering stack of buns, fittingly called "The Carbonator."
From there, things started to take a turn for the worst.
People pushed the boundaries of food porn with some NSFW sandwiches...
Like the meaty "Girth" burger posted by Peni S...
The QuarterPounderMyAngus burger...
...and Ron's mysterious burger that looks anything but tasty.
People also made sandwiches that poked fun at PETA...
...and custom burgers that bashed Bernie Sanders' political campaign.
Things progressively went downhill from there.
After the homepage filled up with a bunch of filthy, racist sandwiches, McDonald's finally decided it was time to pull the plug on its "Create Your Taste" campaign. This just goes to show you should never ask the internet to name something for you.
Citations: McDonald's invites the Internet to create their own burgers; immediately regrets it (Metro UK)