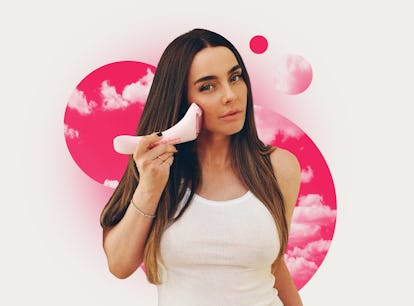 Lauryn Bosstick Reveals The Weirdest Wellness Trends She's Tried
The Skinny Confidential podcaster thinks "mouth taping is about to blow the f*ck up."
We may receive a portion of sales if you purchase a product through a link in this article.
Lauryn Bosstick's pink ice roller may be her bestselling product, but her wellness empire is more than just viral face-snatching products beloved by celebs like Charli D'amelio and Ashley Benson. Alongside The Skinny Confidential Him & Her Podcast episodes where Bosstick discusses self-care practices like mouth taping, the beauty guru-turned-entrepreneur also spills her favorite productivity habits, tips to level up in life, and other insights to take listeners to #bossbabe status. As her business has evolved, the 37-year-old says scheduling time on her calendar for wellness and setting limits on outside distractions have become essential.
"I can't tell you how many birthday parties or Friday nights out I've had to miss," Bosstick tells Elite Daily. "But learning to say no and be brutal with my time has helped me protect my peace." Setting purposeful boundaries extends to the lifestyle brand founder's social media and phone habits as well. In addition to spending mornings and nights without her phone, Bosstick says she avoids watching Instagram stories and will pair her TikTok scrolling with a 30-minute StairMaster sesh.
These days, the business owner is busy dropping a new product — "bougie driving gloves" — and embracing efficiency, from habit stacking her to-dos and scheduling time to meditate, to swearing by a three-minute skin care routine that's "thought-out yet seamless." Below, Bosstick shares her top tips for wannabe entrepreneurs, the most interesting wellness practices and products she's tried, and why her new Barbiecore gloves are a must-have for skin care fanatics.
Elite Daily: You must be super busy as an entrepreneur. What are some wellness practices that have helped you?
Lauryn Bosstick: I set aside time in my calendar for wellness so it's seamlessly integrated into my day. On Sunday nights, I'll look at my entire week and schedule in lifting, Pilates, or taking a walk, and then I'll put time with my kids, time for reading, and meditation time. Once I've set those, I'll build my business around that.
Meditation and reading are also so important to me as a business owner. I meditate every day for 15 to 30 minutes, and it gives me clarity and direction because I do a lot of business planning during those sessions. Reading is also something that I highly recommend to anyone who wants to be an entrepreneur because it takes your mind off everything that you're doing. I would be lost without my Kindle at night. I put my phone out of the bedroom at 7:30, so I fit in that time to read.
ED: What are you reading right now?
LB: I'm reading Ryan Holiday's book Discipline Is Destiny. It's incredible for every area of your life. I'm also reading Andy Cohen's Daddy Diaries, which is sort of light and fluffy. And then I just finished the best book that I would recommend to everyone. It's called When Breath Becomes Air.
ED: What are your favorite wellness products right now?
LB: I love having red light bulbs in my bedroom [to help improve my sleep], and taking showers with eucalyptus from the farmers market. One niche thing I've been doing is using this eyebrow brush spooly that's like $11 on Amazon with castor oil. It's natural, and it grows your eyebrows.
ED: What are some self-care practices that you swear by?
LB: I've been mouth taping every single night for the last seven months, and I cannot shut up about it. I wake up with more energy and I've also noticed that the shape of my jawline has gotten stronger from breathing through my nose versus sleeping with my mouth open. I just got this book Jaws that talks about this, and I think mouth taping is about to blow the f*ck up and be everywhere.
I'm a very puffy person, so I do lymphatic drainage to get rid of swelling. I think doing facial massages is the most underrated tip on the planet. Before I do my skin care and put on makeup, I have to do a facial massage with the Pink Balls Facial Massager. I'm all about working out the face.
ED: What are some of the weirdest wellness practices you've ever tried?
LB: Oh God, I use a serum with colostrum — which is found in breast milk — on my face every single day. I've tried a snail facial where they massage your face with snail goo. And then vagina steaming, which is supposed to cleanse it. Something that was worth the hype was microneedling with PRP. They took my blood, put it in needles, and then microneedled my face and shot the blood back into my skin.
ED: What's one you've tried that wasn't worth the hype?
LB: I'm very picky with lasers because I have hyperpigmentation. IPL [a treatment that uses light energy to target damaged skin cells] works the best for me, but I think you have to find the right laser for your face and be really, really careful when you're experimenting. I think a lot of people who get laser go outside and walk to their car, which is a really big mistake. You have to have a hat and sunscreen all the time, even when you're just walking outside to have coffee. I think there needs to be more education around protecting your face after laser.
ED: You're known for your viral skin care tools. What made you decide to dive into driving gloves?
LB: I'm very particular about sun exposure. I had a glycolic peel when I was 18 and they didn't tell me I couldn't go in the sun, so I got a really gnarly hyperpigmentation mustache. That mixed with birth control gave me melasma. It's not that I don't like sun, it's just that I am wearing a hat, gloves, and sunscreen outside.
When you're in your car driving and your hands are just sitting in the sun, I just don't see why you wouldn't want to throw on a glove. It's totally preventative if you're walking, playing tennis, or doing anything outside.
ED: The color's so fun.
LB: I kept buying all these really ugly driving gloves on Amazon, and none of them were cute. I wanted to create something with UVA and UVB protection to really shield your skin from the sun, so I tested a lot of different samples to make sure the material was right. I also wanted the gloves to be fingerless so people could go on their phones. It's super functional, but also cute.
ED: Do you have a process for brainstorming ideas for products?
LB: I am a psycho for a detail. I was so swollen when I got jaw surgery six years ago, but there was no ice roller that would hold cold. I basically became a practitioner of reducing swelling and created the Rolls-Royce version of ice rollers to solve every single problem. I worked with an architect, and it literally took four years and 30 prototypes to create what became the Hot Mess Ice Roller.
No one wants some plastic crappy ice roller out on their vanity. They want something that's really elevated, really pretty, and something that they're proud to have out. So for every single tool we launch, I really try to fix every single pain point and find a solution for it. I don't want to put it out there unless it's the best.
ED: You've talked about taking social media breaks to combat social media anxiety. When do you know it's time to take a break?
LB: People think that presence is so important and you have to show up every single day for social media otherwise it all goes away. My mindset is that I'm playing the long game, and like an athlete, I have to take breaks. Posting every single day just to post feels like there's no direction and it's not purposeful.
So I am very, very, very thoughtful about taking a break. It's time to take a break when I feel burnt out or don't feel creative. You have to be careful not to get into a rut, because there are a lot of times I don't feel inspired and I'm still posting content. I'll take a break for a day, meditate, hang out with my kids, read, and then it's time to get back on the horse the next day.
ED: What does your go-to self-care routine look like?
LB: A lot of meditation, reading, and ice on my face every morning. For skin care, I love SkinCeuticals, SkinMedica, Eminence, Agent Nateur, and The Skinny Confidential Depuffing Oil. My skin care routine isn't like 40 steps though — I just did it in three minutes. It's quick, but there's a lot of thought behind it. I've talked to an esthetician about what my skin needs so it becomes so seamless and easy.
Our wellness drawer at my house has all our supplements, minerals, and vitamins so they're easy to grab. I habitually stack my routine to make it less overwhelming. Like every morning I wake up, tongue scrape, and then have lemon water with minerals in it, and then I drink my lemon water outside or take a walk while I'm doing that.
Lauryn Bosstick's Favorite Skin Care Products
ED: What's your best advice for juggling a lot of different things on your plate?
LB: I try to run my life by a barometer of, is it worth being away from my kids? If it's not, I don't do it, so I've really learned how to say no. I also think moving to Austin has taken us away from a lot of distractions in LA. In Austin, I'm there to work, be with my kids, and work out. When I come to LA now, I'm completely focused on work.
ED: I saw your blog post about the biggest lessons you've learned from over 600 The Skinny Confidential Him & Her podcast episodes. What are some about success that resonate with you the most?
LB: The importance of protecting your peace is a big one. I've also noticed that a common denominator between all the most successful people I've met is that they all read. I've also noticed that if something really bad has happened to them in their life, really successful people persevere and use that to fuel them instead of letting it victimize them.
This interview has been edited and condensed for clarity.