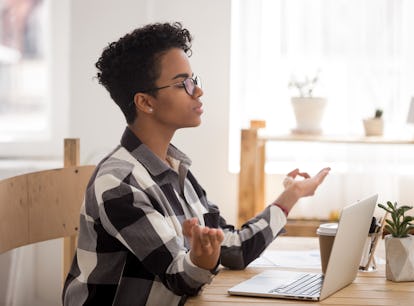 4 Top Productivity Hacks For Better Work-Life Balance
Make work simpler, more pleasant, and more productive.
by Olivia Grace and Bonnie Horgos
Shutterstock
Remember the days when we used to get up early, drive to work, and sit there for eight hours a day, five days per week? Without a doubt, one of the unexpected silver linings of COVID has been the normalization of flexible hours and hybrid work.
On top of this newfound freedom — hello, being able to eat an actual home cooked lunch and pick up your kids after school — we've seen a huge increase in software that's literally life-changing. The best tools can boost our productivity so we can free up time for other things that matter. That's where Slack comes in.
Slack is a collaboration hub that brings the right people, information, and tools together to get work done. If you're looking to make work simpler, more pleasant, and more productive, check out this list of the best human-centered productivity hacks.
Embrace The "Huddle"
Huddles are a way to host audio conversations on the fly right in Slack. They are designed to re-create spontaneous and informal discussions of the office, like when you leaned over your cube to get a gut check from your work spouse. The typical huddle lasts 10 minutes, offering teams an alternative to lengthier video calls. It's the digital equivalent of tapping someone on the shoulder, without the dreaded Zoom fatigue.
Intuit QuickBooks, creators of the popular accounting software, have discovered the beauty of huddles, said Gabrielle Dracopoulos, Intuit's Head of Customer Success and Experience.
"In a contact center, someone walked the floor to help agents in real time," Dracopoulos said. "Working from home, we couldn't do that anymore. With Slack, you can see whether someone is available and instantly start a huddle, without having to schedule a meeting."
Plus, huddles can easily boost company culture, said Dracopoulos.
"It's not only great for support and collaboration, but also keeps personal interactions alive in the same way as walking past someone's desk," Dracopoulos said.
Spice Things Up With Emojis
It may sound trivial, but emojis can be powerful to foster connection, boost culture, and increase productivity and efficiency in a digital-first environment. Yes, we all rely on them for color and humor in our texts, but with the right guardrails, they can also improve company culture by promoting positive feedback and engagement that goes beyond words. Personalities can come out in a way that can be more challenging when we're not in person.
At customer support agency Influx, Slack emojis can help convey information and action items when working in customer support, said Alex Holmes, Influx's Chief Executive Officer.
"We use emoji to communicate things that need to happen, from changes [in] what a client is expecting to onboarding a new client or a new product launch,'' Holmes said. "With an emoji, you can see that someone's seen your message. Then people can respond to it, and people can actually act on it."
According to Slack's research, 75 percent of workers say showing their personality through informal work messages has helped them better connect with colleagues even when they're not in the same office, while 73 percent think it has helped them navigate the transition to remote and hybrid work.
While Gen X and millennials may have differing opinions on whether the crying-laughing emoji is still cool, they can both agree that using emojis at work helps introverts and extroverts alike convey meaning and foster an inclusive environment.
Share Your Status
Whenever you step away from Slack — to grab lunch, take time off, or just focus on a task for a few productive hours — you can use a custom status in Slack to clue in coworkers on what you're doing and let them know where they can go for answers in your absence.
Slack comes with five default choices for status, including meeting status, "out sick," or PTO. Slack admins can tailor options to fit a team's exact needs. Or, for even more personalization and personality, you can create your own custom status to say and show exactly what you want.
Unlike with email, you don't have to send a message to get an out-of-office response, saving time on both ends. And your coworker doesn't have to worry about why your icon isn't green, because they can see you're taking a break to meditate and then walk the dog — freeing you both up to focus on what's important and feel less anxious about being "on."
Another option to keep things personal? Clips allows you to create and share video, voice, and screen recordings in Slack. It solves that age-old frustration of juggling calendars for a meeting, or when it's just not necessary to meet at the same time. Instead, you can record and share a clip right in a Slack channel with a project update, presentation, or feedback, and your colleagues can respond whenever it works for them — with text or video.
At Zillow, they're beginning to experiment with a variety of different use cases for clips, said Meghan Reibstein, VP for Product Management & Flexible Work.
"What I found really fun is the ability for whoever's recording to slice that up and give it to different people at different times, or based on different slices of the content," Reibstein said. "Summaries of team chats and development things, things that used to happen in email — we're practicing, well, what if you just did this three-minute clip?"
Finally, clips allow people to communicate with nuance and emotion in a way that text alone can't, building connection and collaboration, regardless of time zones. Nothing like waking up, signing on in the morning, and watching a clip from your work bestie, right?
Streamline Your Tasks
Streamlining your tasks as much as possible is essential for a seamless workflow. Slack's apps and integrations — including hundreds of thousands of custom-designed ones and counting — help you get more work done and faster. Slack makes all your tools even better by bringing them into one place; it's kind of like a digital office.
At Sonos, around 80 percent of employees use apps in Slack to be more productive, said Ruth Sleeter, Chief Information Officer.
"It has been easy to integrate with apps like GitHub, Google Calendar, Zoom and PagerDuty," Sleeter said. "We've created more than 200 Slack workflows to automate business processes."
Ultimately, these tools can help you with your new hybrid work schedule. There are huge benefits to working asynchronously: We're more productive and have better work-life balance. We have a greater sense of belonging and can better manage stress and anxiety. Apps like Slack allow for asynchronous collaboration so people can work on their own time and others can jump in on their own time. This means that childcare, elder care, or other family obligations no longer have to be insurmountable obstacles.
These are just a few of the productivity hacks in Slack that can make work simpler, more pleasant and more effective. Learn more today.