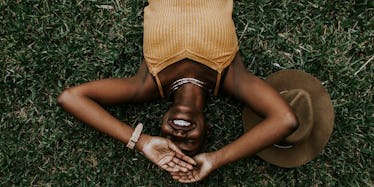 6 Ways To Nourish Your Skin This Memorial Day Weekend
Guys, Memorial Day Weekend is finally upon us.
After months and months of shortened days and serious vitamin D deficiency, it's time to emerge from the shadows of winter and soak up those glorious rays of the summer sun.
But, it's important to remember your skin is more sensitive than ever right now. As you launch into the first weekend of summer, make sure your skin is protected on all fronts, and you'll harness that gorgeous summer glow in no time.
Here are six ways to take care of your skin this Memorial Day Weekend.
1. To state the obvious, always wear sunscreen.
Duh, of course you know this already. But honestly, this can't be reiterated enough.
You should probably be wearing sunscreen all year long, but without a doubt, it's a must in the summer.
Experts recommend lotions with an SPF no lower than 30, and nothing over 50 (anything higher than SPF 50 only provides minimal extra protection), and the product should include some combination of UVA-blocking ingredients, such as oxybenzone, zinc oxide, and ecamsule.
2. Be prepared to soothe your sunburn.
No matter how much SPF you wear, it's likely you'll experience at least a little bit of sunburn, whether it's on your nose, on your arms, or in weird-AF areas like your knee pits.
So, when the time comes, I'm a huge fan of Bare Republic Daily Recovery Serum, which contains some deliciously soothing ingredients like oat milk and manuka honey.
The serum smells absolutely amazing, almost to the point where you'll want to eat the stuff off your own damn face (but, just to be clear, you definitely shouldn't).
3. Don't forget your lips need some lovin' too.
... And I don't mean the smooching kind.
If you're spending all day in the sun, your lips are bound to get a little dry.
Kiehl's Since 1851 Butterstick Lip Treatment (SPF 25) is a great go-to if you feel your lips shriveling up a bit in the sun. The formula includes nourishing coconut oil, and the product comes in a few different shades of pink, so you can match it with just about any skin tone.
4. Drink. All. The. Water.
Again, I'm stating the obvious here, but we all forget to hydrate every now and then.
It's more important than ever to drink water when you're spending a lot of time in the sun, especially if you're drinking alcohol (which, of course, many of us will do this MDW).
A good rule of thumb is to drink a glass of water in between each alcoholic drink. You might have to hit the bathroom a little more than you wanted, but you'll keep your skin feeling good, and you'll probably ward off a nasty hangover.
5. Take a cold shower.
I know, this sounds like the last thing you want to do now that you can finally enjoy the warm weather to the fullest. But I promise it'll be worth your while.
According to Chicago-based dermatologist Jessie Cheung, MD, a cold shower can help soothe red and puffy (aka sunburnt) skin, and it can briefly tighten your pores.
Plus, if we happen to get some extra sizzle this MDW, a cold shower will feel so refreshing after a day in the hot sun.
6. Don't forget about your scalp.
Your scalp is bound to need a little extra hydration this MDW, especially if you plan to spend your days poolside in the sun.
Tela Beauty Organics "Guardian" SPF 18 Sun Protection for Hair and Scalp is an awesome product to keep that moisture locked in all day.
Not only will it replenish your scalp and protect you from harmful UV rays, but it'll tame even the wildest frizzy hair out there.