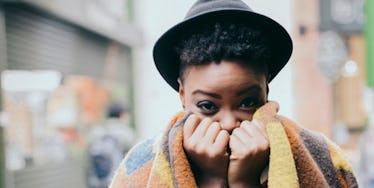 The Least Amount Of Skincare You Can Get Away With Doing In Your 20s
Your skin in your 20s is tight as hell, and it's one of the many gifts of being young... or so you're told.
Along with being able to party until 4 am and actually make it to work the next day, being in your 20s endows you with that glowing 20s skin.
Because of the god-given gift of being young and looking like a Snapchat filter, you might not be taking great care of your skin.
Why should you? You're busy living your goddamn LIFE.
The least amount of skin care you're responsible for, the better. So here's the deal: This is the least amount of skin care you need to be doing in order to hold on to that gorgeous 20s glow.
Every morning and every night, you need to be doing three things. Altogether, they should take no more than two minutes. (Unless, like me, you enjoy spending 45 minutes with a nine-step skincare routine.)
Wash
Sephora Cleansing and Exfoliating Wipes, $8, Sephora 
Every night, wash your face with a makeup removing, exfoliating wash. Sephora makes this easy with their line of rinse-free cleansing cloths, which both remove the days makeup as well as gently exfoliate to brush any dead skin off your face.
The two-sided exfoliating wipes offer dual benefits. The exfoliating side eliminates impurities and dead skin cells with integrated microbeads, while the other side cleanses and effectively removes all types of dirt and face makeup.
Moisturize
Peter Thomas Roth's Water Drench Hyaluronic Cloud Cream, $52, Sephora 
Once you've washed away all the day's (or night's) impurities from your skin, you're gonna want to moisturize, and because you're busy, you need a moisturizer that will keep working for you all day long.
The best option for this is a moisturizer that's infused with that magic ingredient: hyaluronic acid. HA traps H2O in your skin to protect it from drying out and losing elasticity.
There are a million moisturizers on the market right now that include this magic ingredient, but the one I'd recommend is Peter Thomas Roth's "Water Drench Hyaluronic Cloud Cream."
Water Drench is formulated for ALL skin types, and it's a concentrated 30 percent hyaluronic acid cream that transforms atmospheric vapor into fresh, pure water, providing your skin with a continuous burst of intense hydration that lasts up to 72 hours.
Protect
Marcelle BB Golden Glow, $27, Marcelle 
This step is just for the morning, but it CANNOT be skipped. If you walk outside without sunscreen on, well, may God have mercy on your soul and your skin.
It's been repeated by skincare enthusiasts and dermatologists alike: If you want to protect your skin, wear sunscreen. Protect yourself from the damage that can be caused by exposure to harmful UV rays.
That doesn't mean you slap some body sunscreen on your face like some kind of amateur.  You need a facial sunscreen, as the skin on your face (especially around your eyes and lips) is far more delicate.
Try using Marcelle's BB Golden Glow. I'm saving you yet another step in your morning process, because BB cream is a makeup staple, and this is the greatest one I've ever used.
Altogether, if my timing is correct, this should take no more than 1.5 minutes. That's less time than it takes to brush your teeth, if you're doing that right!