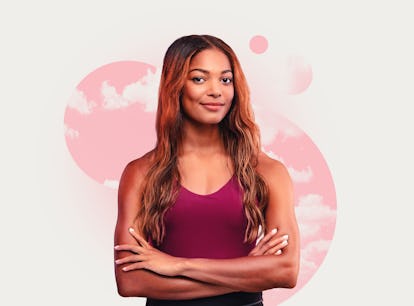 Olympian Gabby Thomas' Self-Care Routine Post-Race Is So Relatable
Plus, the elite athlete shares her tricks for falling asleep before a big race.
Elite Daily; Idorsia
Two-time Olympic medalist, Harvard grad, and University of Texas epidemiology master's student Gabby Thomas is the epitome of someone who does it all. The 26-year-old track star made waves at the 2020 Olympic trials after running the second-fastest 200-meter sprint at the time, earning congratulatory messages from stars like Ashton Kutcher and Gabrielle Union. Thomas' debut performance at the Olympics in 2021 didn't disappoint, either — she scooped up a bronze medal in the 200 meter, as well as a silver medal for the 400x100m relay. Thomas' secret to keeping up her boss babe hustle? Prioritizing her physical and mental health and well-being, which she hopes will push her over the edge at the 2024 Olympics in Paris.
Thomas says one of the most important factors for recovery post-race is getting enough sleep, prompting the athlete to join Idorsia Pharmaceuticals' Seize the Night & Day campaign, which is all about helping people develop healthy sleep habits. "I started prioritizing sleep health in college and it became such a big part of my training, just understanding how much better I can train and what a better athlete I can be if I get enough sleep," Thomas tells Elite Daily.
It's an approach that's paying off. Thomas kicked off the season by taking home two medals for the 100 meter and the 200 meter at the Texas Relays in early April, and is set to compete next at the Adidas Atlanta City Games on May 6. While the athlete admits her training regimen is "pretty strict," Thomas' go-to routine to chill out at the end of a stressful day — Friends, skin care, and cuddles with her puppy — is so relatable. Plus, she likes scrolling through her FYP for fitness inspo just like the rest of us.
Below, the athlete shares what it was really like competing in the Olympics during the pandemic, her tricks for falling asleep before a big race, and her must-have products for a competition.
This interview has been edited and condensed for clarity.
Elite Daily: Your first Olympics was in 2021 in Japan. What was that experience like?
Gabby Thomas: It was surreal and amazing. It was so exciting to be in Tokyo competing for my country, and I felt like I had done everything I could do to prepare for that moment and to be the best athlete that I could be. And I think I did pretty well.
ED: Outside visitors weren't allowed at the Olympics — what was that like?
GT: In retrospect, it's a little weird, but I didn't really notice at the moment. For starters, they had painted all the seats, so it looked like there were people in the crowd. When you looked out there, it really looked like there were people watching.
You're also in the zone competing as an athlete. The only part that was a little funny was after you finish. You cross the line, you look up, and not many people are there.
ED: When competing in a physically grueling competition like the Olympics, how do you deal with the physical stress in addition to other mental/emotional stressors?
GT: As an elite athlete, there's always going to be a lot of stress. The majority of my job is figuring out how to deal with pressure and external stressors, whether that's from social media, other people talking about you, or even just the pressure we put on ourselves to compete at such a high level.
Over the years, I've matured and learned how to take care of myself as an athlete and prioritize my overall health. A big part of that has been how I do my rest, which includes meditating, sleeping, and making sure that I'm living a very balanced life.
ED: What is your training schedule like? Do you train year-round?
GT: It's really an all-year commitment and lifestyle. In track, we have our off-season and then we have our pre-season, which is a few months of really, really hard training. A lot of people don't know that the pre-season is really the backbone and foundation of our entire season — how I take care of myself and prioritize my health during that time is directly tied to how I complete when we're actually in season. When you see me on TV at the Olympics, a lot of that comes down to my pre-season — how much sleep I was getting, and how I was eating during those fall training months.
ED: There are a lot of races at the Olympics. How do you shake off not performing as well as you wanted to in one race ahead of another competition?
GT: One of the things that really sets well-performing athletes apart from other athletes is being able to shake off those really tough races or performances.
If I have a tough performance or I have to take a loss, I'll go home, play with my puppy, and throw on an episode of Friends. I'll just unwind and do things that I really enjoy to shake it off. What happens the day before, even an hour before, a competition really doesn't matter. So if I can just go into the next competition and be in the moment, then I know I'm in good shape.
ED: Are there any coping mechanisms you have for when the pressure starts feeling overwhelming?
GT: I've learned a lot of self-care tips from being an athlete that I apply in my everyday life. Meditating is a big part of that, but also, just finding things to look forward to in your day, whether that's a skin care routine or a favorite TV show. I spend a lot of time with my dog, which makes me really happy. And making sure you're taking care of yourself with sleep and diet is really important.
ED: Speaking of your skin care routine, what does your Olympics beauty and self-care routine look like?
GT: Sunscreen's really important just because as an Olympic athlete, we're outside for hours a day, which also makes you dehydrated really quickly. Making sure that I'm protecting my skin and then hydrating after is very important. When I'm home, I have face creams, I have my Vitamin C serums, just making sure that I keep my skin super hydrated and fresh.
ED: Is there a beauty, skin care, or wellness product you swear by for the Olympics or a race day?
GT: I wouldn't say anything specific, but a tinted moisturizer with SPF protection is so key, just because we're so active. I know a lot of Olympic athletes will use that because it keeps your face really clean and you don't have to worry about makeup and sweat mixing together.
ED: What does your typical morning routine look like?
GT: I get up and greet my dog and give him his morning affirmations. I normally play some type of music that'll pump me up. I'm in a big Caribbean phase right now. I'll do a mini skin care routine, making sure that I'm moisturized and have my sunscreen on. Then, I'll make myself some breakfast and go for a long walk with my dog just to be in a happy mood and get some sunlight before getting ready for practice.
ED: What about at night?
GT: After competing, you're still so high energy, so it's really important to figure out ways to wind down at the end of the day, like after competition. A lot of times we actually compete at night, which can make it tough to wind down.
Some of our meets will be at 9, 10 p.m. at night, so you have to come back to your hotel and figure out how to relax and de-stress. I'll come back and throw on a quick episode to help myself wind down, but I try to shut the screens off at an earlier time if I can. Then, I'll do something that I like, like a quick skin care routine. I'll do a bit of meditation and read a book.
ED: That's tough. Do you have any tricks for falling asleep before a big competition?
GT: A lot of times you can be really nervous before a competition and your heart is racing because you're so excited. Meditating, drinking tea, doing a skin care routine, and journaling are things that I've picked up over the years that help me calm down. Right before I fall asleep, I always throw on some white noise and my sleep mask.
ED: Are there any workouts that you think are underrated or hate doing?
GT: It's funny because I'm a runner, but I don't like to run for long periods of time. I think anything like over 300 meters is overrated and I don't like doing it, but everything else is fair game.
ED: Ahead of the 2024 Olympics, what are you most excited about?
GT: I am definitely excited to be in Paris. I'm also just excited to be more mature as an athlete. Having had Tokyo under my belt and a couple of medals, I know what to expect and I know what's expected of me, so I know how to prioritize my health and wellness and prepare to be a really great version of myself. I'm excited to show the world what I can do. I've been training really, really hard and working behind the scenes for this.