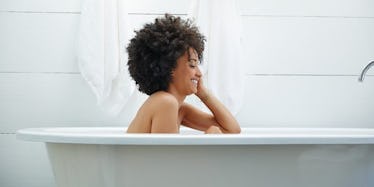 7 Products Marketed For Men That Are Actually Amazing For Your Self-Care Routine
To be honest, I've always rolled my eyes at products that are gendered and sold specifically to men or women. Oftentimes these products sold "for men" are made of the same ingredients as their "female" counterparts, except they're packaged in different colors, or made with a fragrance deemed masculine. Not to mention, some of these gender-driven products are comically unnecessary (think "manly" sodas or pens for women). That said, I'm sure there are some people out there who don't realize they can cross those arbitrary gender lines. In fact, I never thought about the concept of men's products for women until I used my brother's Old Spice one day.
Yes, while deodorant might not be something you want to share willy-nilly, it was a dire situation of B.O. and it ended up being a pivotal moment for me. The scent was intoxicating, and it worked for the whole day, leaving me dry and, dare I say, smelling pretty spicy.
Plus, it begged the question, what other genius products out there am I missing out on simply because of society's silly gendered marketing schemes leading me down the wrong aisle at the pharmacy? Well, my friends, here are a few products you shouldn't turn a blind eye to the next time you're looking to upgrade your self-care routine.
1. Facial Moisturizer
Kiehl's Oil Eliminator 24-Hour Anti-Shine Moisturizer, $27, Kiehl's
I've spent many hours and many dollars trying to find the perfect moisturizer. And because my skin is fickle and changes with the season, what works for my acne today won't necessarily work tomorrow.
But during the summer months, when my skin tends toward the extreme oil variety, this Kiehl's product has worked wonders for me time and time again. It leaves my skin matte without drying it out too much.
2. Sophisticated Toiletry Kits
Leather Toiletry Bag with Monogram, Personalized Men's Toiletry Kit, $44, Etsy
I'll admit I've stolen more than one "dopp kit" (as my dad called them) from a male ex before.
Can you really blame me though? They're always so spacious and sturdy, they can fit makeup and full-sized skincare products alike, and they just look so, so suave.
3. Intoxicating Cologne
Acqua Di Parma Colonia Intensa Cologne, $150, Sephora
I've been wearing men's cologne for quite some time now, and I truly find that having a signature scent makes me feel awesome.
More often than not, the scents marketed for men have a bit more heft and punch to them than "female" perfumes. Don't let yourself stick to one side of the department store! Give everything a sniff until you find the personal smell that makes you smile.
4. Razors That Actually Work
The Truman, $9, Harry's
I mean, this is pretty well-known at this point, I'd say. Men's razors are often way more effective at getting the job done than women's razors, and they're generally cheaper, too.
Step away from the Venus. Nothing gets you as clean and close as razors for dudes.
5. Shaving Cream
Proraso Shaving Cream, $10, DermStore
So if you give a gal a razor, she's probably going to ask for shaving cream. This stuff is ridiculously smooth and so wonderful on your skin.
Lather it on with a bit of water, and you're in for the shave of your life.
6. The Comfiest Boxers Ever
Hanes Men's ComfortSoft Tartan Boxers 2-Pack, $ 8.51, Hanes
These are simply the best, the least expensive, and the comfiest pajama bottoms of all time. And they come in so many wonderful patterns!
7. Big Ol' Plaid Shirts
Scotch Plaid Flannel Shirt, Slightly Fitted, $29.99, L.L.Bean
There's nothing cozier in this life than a plaid shirt that's two or three sizes too big for you. It's practically a uniform for putting your feet up and watching a movie.
Peace out, gender stereotypes.