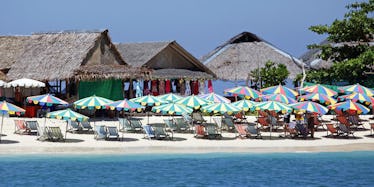 5 Warm Weather Destinations To Visit When The Winter Blues Get You Down
REX/Shutterstock
As much as I love dancing on the shores of Santa Monica Beach or driving with my windows down along the breathtaking Pacific Coast Highway in Malibu, I can't deny even sunny Los Angeles has its winter woes.
Yes my dears, around this time of year, it does get cold in LA. I know it's colder on the East Coast, but let's face it, Angelenos are spoiled, and we will run indoors at 50-degree weather.
So if you're looking to get summer back one way or the other, cross California off your list.
While balancing the frenzy of Christmas shopping, office parties and family time can be daunting, if you manage to squeeze in time for a getaway, there are a few other countries that I must admit are way better than America this time of year.
Go ahead and put these five warm destinations on your radar this winter.
1. Cape Town, South Africa
If you're looking to swap chilly weather with chilling on some of the most beautiful beaches in the world, I can think of no better place to soak in the rays than South Africa's Cape Town.
If you're more of an adventurer, this is the best time to hike, bike or explore one of South Africa's most popular locations.
The best thing about winter in North America is it's summer in many other countries, so there is no better time than now to get away, or give the gift of a getaway to your friends, family or loved ones.
2. Lagos, Nigeria
Everyone knows you haven't really partied until you've partied in Lagos.
I must warn you, this feat is not for the fainthearted. You might lose your worries in the vibrant celebratory culture, drown in the warmth of brotherly hospitality or fall in love with the food -- you just never know.
Quite frankly, a December in Lagos may be one of the best experiences of your life, so if you're looking for non-stop entertainment, this is the city for you.
This is the place where the clubs are open 'til 6 in the morning (just in time for your next event), bottle service is the order of the day and the women, well, let's just say Nicki Minaj may have a hard time standing out.
3. Culebra, Puerto Rico
Some call it love at first sight. I call it paradise.
Its warm, clear waters and super-white soft sand are only a couple of the things I love about Puerto Rico.
If you're looking for an affordable destination not too far from home, but still as exotic as any island on your list, Culebra is the place for you.
No passport is required to get away to this home away from home, and around this time of year, many North American tourists begin to descend on Culebra Island.
Warning: As the influx of surfers and snorkelers begins, so do plane ticket prices. Just ensure your rental, hotels and tours are booked well in advance.
4. Tenerife, Canary Islands, Spain
Europe's cold and rainy reputation keeps a lot of visitors away during the year, but Tenerife on the Canary Islands of Spain enjoys much warmer days than the rest of Europe.
Here, you're always guaranteed sunshine. Tenerife is perfect if you're looking for a family-friendly resort type of getaway, and your best bet is to look at Playa de las Américas to find decent accommodations.
Costa Adeje is more up-market, with four and five star hotels, chic boutiques and manicured beaches, while the Los Cristianos attracts a more mature visitor as it's a more quiet part of town.
5. Phuket, Thailand
The best time to visit Phuket, Thailand is from December through March. Why? No more rain.
Although Thailand is a predominantly Buddhist country, you will still find celebration of Christmas, and even more people start to flood this beauty by New Year's.
When in Thailand, the spas are a must-do. Get the infamous Thai massage and enjoy world-class shopping experiences at some of Phuket's most beautiful malls.
If you do shop, remember to keep your receipts, and get VAT Refund coupons. You need to show this coupon along with the receipt and the purchased item at the airport to claim your refunds.
I hope now you have an idea of where you're visiting next. Happy holidays!