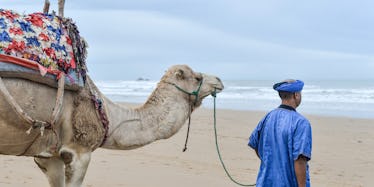 5 Destinations You Should Adventure To If You're Alone On The Holidays
The holidays are generally a delightful time of year. That is, until you end up spending them alone.
While everyone else is busy with their cookie swaps and tree lightings, you're at home trying to avoid made-for-TV rom-coms and childhood favorites you used to love, but now hate.
Let's face it: You're not where you thought you'd be this year, and watching these movies alone isn't going to make anything better.
If circumstances have been unkind and you're destined to spend this holiday season alone, don't worry. I have good news.
There are countries in this world whose November and December calendars are completely devoid of the holidays we traditionally celebrate in the West.
What better way to escape an undesirable holiday season at home than by heading far, far away to a warmer, cheaper country where there are no traces of Christmas trees, holiday sales, menorahs, snowflakes or Santa Claus impostors?
Here are five countries to travel to if you're solo this holiday season:
1. Cambodia
If you hate the snow and cold temperatures, you'll love Cambodia. And if you're trying to avoid any signs of the holidays you've skipped out on, you'll love it even more.
Siem Reap is home to one of the world's most incredible UNESCO World Heritage sites, Angkor Wat. I can't think of a better distraction than this magnificent complex of historical temples and ruins.
The locals will welcome you with warmth, and every day will be an adventure in which you'll play the part of Lara Croft.
2. Morocco
Africa, anyone? You won't find any holiday spirit here — just culture, vibrant colors and amazing food.
Trade in the gaudy, multicolored Christmas lights for one of the country's famous mosaic patterned lamps instead.
Get lost in the arched alleys of cities like Marrakesh, and take in the stunning Berber architecture.
Ride a camel through the Sahara desert and spend a night under the stars. I promise you'll never have a holiday season like it.
3. Thailand
While Thailand is a predominantly Buddhist country, they certainly love a reason to celebrate.
As a result, you won't be able to completely escape the holiday vibes and may find decorations even more grand than back home.
You will, however, have a few distractions to choose from.
You could spend your time exploring ornate temples or soaking in Bangkok's skyline, drink in hand, from one of its many sky bars.
You could go scuba diving in the pristine waters or enjoy island hopping with views of towering limestone cliffs. You can do all this for a very affordable price.
Thailand is highly visited during the holiday season, and you'll meet many solo travelers.
By the end of the trip, your pocket will thank you, and you'll have renewed your mind, body and soul.
4. Turkey
The name itself may transport you right into a daydream about happy family dinners, but a holiday season in Turkey may be just what you need.
You may have seen photos of a beautiful landscape characterized by conical rock formations and an early morning sky filled with colorful hot air balloons.
This is a dream-like scene out of a real-life place: Cappadocia, a must-see region of central Turkey.
I personally can't think of anything that would make me happier than spending Christmas in a hot air balloon or sleeping in an exotic, cave-style hotel.
You can even indulge in a Turkish bath and enter the new year feeling fresh and very, very clean.
5. Vietnam
Vietnam is another option for escaping the holiday atmosphere.
You can start in the south and explore the picturesque beaches of Phú Quốc, ride a four-wheeler through the sand dunes of Mũi Né and swing through the UNESCO World Heritage site of old town Hội An.
You can work your way up north to the bustling capital city of Hanoi, and even further to the picturesque rice terraces of Sa Pa, finishing up on the eastern coast with a cruise around famed Ha Long Bay.
You'll have so much to see, so many motorbikes to dodge and so much pho to eat that missing the holiday season won't cross your mind.
The holidays are all about giving, so give yourself the gift of a solo trip to a beautiful country. It'll be much better than hibernating and wallowing, I assure you.
May the thought of returning home in January with a killer tan and an incredible Instagram feed keep you warm all season long!