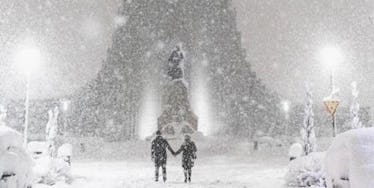 Iceland's Last Snowfall Was Greatest In 60 Years And The Pics Are Enchanting
The weather has been pretty strange this winter.
Many places all over the world have seen sunny skies and uncharacteristically mild temperatures all season, almost making it seem as if Mother Nature just decided to skip out on the whole cold, snowy winter thing this year.
However, Iceland's latest snowfall proves winter is still alive and well in the Nordic region.
Over the past few days, Iceland has definitely been living up to its name, as record-breaking snowfalls buried the nation's capital in a beautiful blanket of snow.
On Sunday, February 26, residents of Reykjavik awoke to find a winter wonderland outside their windows that looked like something straight out of fairy tale.
The winter storms sprinkled a whooping 20 inches of snow over the city, which exceeds the previous record of 18.9 inches back in February of 1952.
It appears Mother Nature is finally deciding to channel her inner Queen Elsa because this latest blizzard is the greatest snowfall Iceland has seen in 60 years.
The knee-deep snow conditions made it pretty hard to get around the capital.
However, that didn't stop city dwellers from bundling up and braving the cold in order to get better view of the snowy sights.
A lot of people ventured out into the storm with their cameras, and the results of these frosty photoshoots look enchanting AF.
No, really — some of these whimsical winter scenes are so incredibly beautiful, they'll give you the chills.
Gunnar Freyr, a photographer know for the Instagram account Icelandic Explorer, was one of the many people who snapped magical photos of the snowstorm.
Freyr told BBC, "It was very fun to shoot, and people seemed very excited by the weather. I took pictures of lots of couples holding hands — everyone was getting into the romantic vibe because of the snow."
While most people snapped photos of the record-breaking snowfall after the storm, Freyr decided to venture out in the wee hours of the morning and snap photos in the midst of the blizzard.
As you can imagine, there are some challenges that come along with taking photos in the midst of a blizzard. Freyr said, "It was a difficult shoot because my camera kept getting covered with snow."
Despite the tricky weather conditions, Freyr managed captured some truly incredible images that will make you want to book a plane ticket to this winter wonderland ASAP.
Citations: Iceland has had record-breaking snow and it looks absolutely incredible (Indy 100)