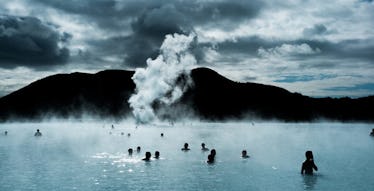 20 Things That Make Iceland The Perfect Off The Grid Vacation
There are so many things to do in Iceland! Where do you even start? From the obvious to the more obscure, and possibly even impossible (see point 20), here is the ultimate list of things to do in Iceland.
1. Swim in the Blue Lagoon
The most popular attraction in Iceland is actually man-made, but that doesn't deter the crowds from flocking to bathe in the milky blue waters of the ethereal Blue Lagoon.
2. Buy an Icelandic sweater
Woolen Icelandic sweaters, or lopapeysa, are worn by every second person in Iceland, so buy one if you want to blend in with the locals. I bought mine at the Kolaportið flea market in Reykjavik – and no, I haven't worn it (Australia's climate is strangely not similar to Iceland's at all), but, yes, it is the cutest thing I own in my wardrobe. It's all about balance.
3. See the Northern Lights
There is an element of luck with this phenomenon, as it is so unpredictable. The optimal time to see the lights is during the colder months from mid-September until mid-April, but even then there is no guarantee. I met a traveler who visited Iceland in the peak of summer and managed to see them, so there's just no telling.
4. Eat a hotdog from Bæjarins Beztu Pylsur
This is the most famous hotdog stand in Iceland, which was frequented by Bill Clinton when he was in town. Enough said.
5. Pat an Icelandic horse
Icelandic horses have to be the most stylish horses in the world – and the friendliest! Pull over to the side of the road if you spot these graceful creatures, and spend some time horsing around (pardon the pun).
6. Survive the rúntur
The rúntur is the renowned pub crawl in Reykjavik, which doesn't get started until much later in the night and normally after pre-drinks at home. It's survival of the most-willing-to-party. Bring your stamina.
7. Spot a puffin
Puffins can be difficult to spot, but your best bet at seeing one of these funny-looking creatures is in the southern coast near the coastal town of Vik. Keep an eye out for them perched high on the cliff faces. There are other locations around Iceland where you can find puffin colonies; otherwise, pick up a stuffed toy version in stores.
8. Descend into a volcano
Be daring and take the opportunity to descend inside the magma chamber of the dormant Thrihnukagigur volcano, just 30 minutes out of Reykjavik. Thrihnukagigur last erupted 4,000 years ago, and there has been no indication that it will erupt again in the near future.
9. Drive around the entire Ring Road
According to Google maps, it takes about 18 hours to do a complete loop of the Ring Road; however, there is so much to see along the way so take a couple of weeks and make a road trip out of it. 
10. Attend an Icelandic music festival
For such a small country, Iceland has produced some pretty cool artists: Björk, Sigur Ros and Of Monsters and Men, to name but a few. Attend a music festival such as the Iceland Airwaves Festival in early November, or the Secret Solstice Festival, where you have the opportunity to party inside a glacier.
11. Search for rainbows over waterfalls
This isn't a difficult one to cross off the list, as you'll likely encounter a few rainbows glistening over the heavy mist of plummeting waterfalls along your journey. The Skógafoss waterfall, in particularly, is famous for the rainbows (This includes double rainbows!) that are consistently seen in the heavy spray of the waterfall.
12. Try Brennivín
Brennivín is a liquorice-tasting schnapps otherwise known as the 'Black Death'. It is made from fermented potato mash and is flavored with caraway seeds, and traditionally taken in conjunction with hákarl (see point 16).
13.  See icebergs up close
The sight of the enormous bobbing chunks of blue ice is an incredibly surreal experience. Take a boat tour on the Jökulsárlón Glacier Lagoon or the nearby smaller Fjallsárlón Glacier Lagoon. Note: The zodiac boats get up closer to the ice than the Amphibian boats.
14. Go film location spotting
Iceland has proven to be a popular setting for films and shows with the likes of "Game of Thrones," "Die Another Day," "Prometheus" and "Lara Croft" all having been filmed here. Create your own film location itinerary and follow the steps of your favourite characters and celebrities.
15. Go off-road
Making the journey is half the fun and you'll definitely have a spirited time on the F-roads in the highlands, bouncing in your seat and crossing gushing water streams in an enormous super-jeep. Alternatively, rent your own 4×4 if you feel like partaking in some off-road driving, but be aware that there will be difficult parts to navigate and you definitely don't want to be that car submerged in the river (which I witnessed).
16. Try fermented shark
Otherwise known as hákarl, fermented shark is the national dish of Iceland and saying that it is an acquired taste would be kind. Anthony Bourdain famously asserted that it was "the single worst, most disgusting and terrible tasting thing."  I feel like this would make the Icelandic people proud.
17. Go snowmobiling on a glacier
Don't miss the chance to go snowmobiling on the glaciers as a driver or passenger – it's quite a sight watching the ice gradually changing into a snowy winter wonderland.
18. Snorkel between two continents
This can be done at the Silfra Fissure in Þingvellir National Park, which is where the North American and Eurasian tectonic plates meet.
19. Visit the geyser after which all geysers are named
Geysir is the namesake of the word "geyser," so pay your respects when visiting. However, it is the neighboring geyser, "Stokkur" that is active, with spouts of water spraying into the air every few minutes.
20. Take a selfie with Björk
I've left the most difficult and elusive challenge to last. All I can is good luck and may the odds be ever in your favor.