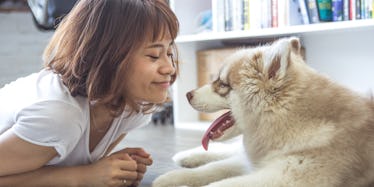 7 Effortless And Unique Summer Jobs That Can Fund Your Next Tropical Vacation
TookAPic/Pexels
For many of us, we hope summer will be filled with prime beach time, and jetting off to the tropics with the squad.
Just picture it: You're laying on the sand with your best girl pals, while the cool breeze is blowing in your hair.
As the warm summer heat hits your skin, you sip on a fancy piña colada from that bartender you were eyeing. Life is pretty freaking fabulous.
There's only one problem... you're broke.
Summer is the perfect time to hit the road for some much-needed vacation, but oftentimes, we can't truly afford the trips we passionately dream about.
Loosely swiping credit cards left and right, your empty bank account is patiently waiting for you once you return from that epic #lituation.
Finally facing the damage you've done, you're forced to face the reality that, once again, you tapped out on funds you didn't actually have.
But, there's hope.
Vacations are supposed to be your time to breath and relax. Even with a 9-to-5, there are pretty easy ways to make some extra cash that will have you ready for a good time.
Here are seven effortless, unique summer jobs that may help you get started.
1. Wedding Photo Booth Attendant
Wedding season is in full effect, and photo booths are a must at these events.
As a photo booth worker, you're responsible for setting up the booth, explaining the rules, and watching drunk guests put their faces in your camera.
Do a quick Google search of photo booth rental companies, and contact them about extra hands. They will surely need it.
What's even better is that most events are at night or on weekends, and won't interfere with your day job.
2. Ice Cream Or Froyo Shop Worker
Sun's out, buns are out... and our taste buds are craving cold treats during the upcoming hot months.
Ice cream parlors are great spots to pick up some extra cash during their busy days. For an even easier job, seek out the self-serve frozen yogurt and ice cream shops.
Monitoring the toppings and eating some delicious froyo? Sounds like a match made in sweet dreams heaven.
3. Clean Up Shop At Your House
You might be surprised at how much junk you have around your house that you don't even use.
Without having to leave your home, you could sell items that you haven't touched in years. From clothing, books, and electronics, to even furniture, posting your stuff online can quickly generate some fast cash.
You can try the classic sites like eBay, Craigslist, or Amazon, but apps like Letgo and OfferUp let you sell right from your smartphone.
4. House Sitting
Wait, you're telling me I can get paid to watch Netflix at someone else's house? This is what life is made for.
Many families use the summer to go on extended vacations and feel uncomfortable leaving their house unattended for a long period of time.
You may have basic duties to take care of, like watching after pets, or simple maintenance. Check out sites like TrustedHousesitters to scope out opportunities.
5. Sell Bottled Water
This one will probably require the most effort out of the list. Map out all of the major events hosted outside in your area, and sell bottled water as attendees leave.
Check with the city to see if this is legal, first, as many areas have different regulations. This would only require a few hours, but with a trip to your local grocery store, the money from your sales will add up quickly.
6. Pool Attendant
Pools are totally poppin', and many of them need assistance with maintenance.
Let's be real here: What's better than chilling in the warm sunshine all day long? Take on a job as a pool attendant, which requires basic duties, such as handing out towels to guests and checking the equipment.
Check out pools in golf clubs, resorts, and spas for a more controlled environment.
7. Airbnb Renter
Do you have an extra room in your house or apartment? Rent it out to other travelers.
Airbnb has become the frugal traveler's dream, and is an awesome way to earn some money. Check out the site's legal policies before deciding to move forward, though. Having constant strangers in your home can be weird if you aren't comfortable with the idea.
Feeling a spark of inspiration yet?
Your next trip is going to be so much more memorable when you have the funds to dodge those cheap airlines that make you pay for bags, water, and your soul.
Try some of these summer jobs out, and save up for the vacation that's worth a thousand Instagram stories.