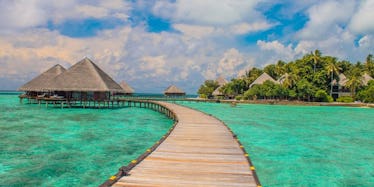 5 Tropical Islands You Can Still See If You Barely Have A Budget For Travel
Shutterstock
I know the first things that come to mind when you think of tropical islands are expensive resorts and hand-holding honeymooners, and that probably doesn't exactly place them on top of your bucket list.
But, these five tropical locations are bound to change your mind.
They are not only insanely affordable, but they also offer unique, must-have experiences for every adventure-hungry traveler.
Bali
Bali is one of the 17,000 islands that form the Indonesian archipelago.
Even though people tend to describe it as paradise on Earth, it is so much more than just another beach vacation.
Yes, the waves there are perfect for surfing, the sea life is meant to be explored and the dreamy resorts with endless sandy beaches are packed with tourists.
Yet, the diverse, rich culture, friendly, ever-smiling people and stunning nature are the things that actually turn Bali into a paradise.
The island gets most visitors in August, September and December, so if you want to avoid the crowds and get the lowest prices, pick any other time of the year.
During the off-season, hotel prices can get as low as $8 per night, and you can find yourself an average 3-star hotel for $30 per night.
To do: surfing, scuba diving, snorkeling
Must see: unique Bali temples, including Tanah Lot, Uluwatu, Goa Gajah, Ulun Danu Beratan and Besakih
Fiji
This Melanesian country in the South Pacific Ocean is actually an archipelago of 333 islands and your beach vacation stereotype.
Secluded, postcard-perfect beaches make Fiji the ideal place for a romantic getaway. But, a romantic atmosphere is not all that Fiji has to offer.
It's also known as the "soft coral capital of the world," with over 1,500 species of fish, which makes it the place to be for all you snorkeling and diving enthusiasts.
You can find accommodation for as little as $14 per night, while an average 3-star hotel costs about $60 per night.
To do: snorkeling, scuba diving
Must see: Colo-i-Suva rainforest park, Navala village
Koh Tao, Thailand
If you're not that into romantic getaways and are looking for your next big adventure, Koh Tao in Thailand is the perfect tropical destination for you.
It's like stepping foot into another dimension – a diver's paradise. The sea is full of animals such as turtles, stingrays, barracudas, reef sharks and even an occasional whale shark.
Don't worry if you're not a diver. Koh Tao is also one of the cheapest and easiest places in the world to learn to scuba dive.
And not all of the island's beauty is hidden under the sea, either. There are gorgeous bays, such as Shark Bay, Ko Nang Yuan, Freedom beach, Laem Thian, Mango Bay, Hin Wong Bay and Tanote Bay, just waiting to be discovered.
Forget about boring things like driving a car. To actually get to know this unique island, rent a quad bike or simply hike through the jungle.
You can find accommodation for as little as $17 per night and 3-star hotels for about 30$ per night.
To do: freediving, snorkeling, scuba diving, hiking
Must see: the beach Chalok Baan Kao
Si Phan Don, Laos
Si Phan Don, also known as Four Thousand Islands, is an archipelago of hundreds of islands, scattered all over the Mekong River.
The islands are one of the most unique places in the world.
You can break away from the craziness of civilization and immerse yourself in the tranquility of everyday rural life, where people still live in wooden houses with pigs, goats and cows roaming free.
The largest of the islands, Don Khong, isn't as interesting as Don Det, where most tourists decide to travel instead.
There, you can also find most of the available hotels and guesthouses and accommodation for as little as $10 per night.
To do: kayaking down the Mekong River, dolphin spotting
Must see: the largest waterfall in volume in Southeast Asia, Khone Phapheng, rice paddies, sugar cane and coconut farms
The Maldives
Once you stop thinking about the Maldives as the clichéd honeymoon destination, you just might discover a whole new world of hidden underwater gems, glorious bays and cultural riches.
While the Maldives are notoriously known to be the home of some of the most expensive, luxury resorts, each located on its own private island, the islands have now finally become attainable to independent, budget travelers as well.
In 2009, the government permitted the locals to open private guesthouses for tourists, which is great news for them and for us.
While the locals can now profit from the dreamlike beauty of their homeland, budget travelers can explore any one of the private islands, not only the resorts, and find affordable accommodation for $40 per night.
To do: scuba diving, snorkeling, swimming with a whale shark, dolphin spotting
Must see: the nation's capital, Male, Old Friday Mosque