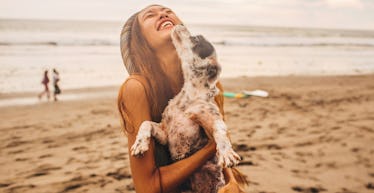 Here's How You Can Travel The World While Taking Care Of Adorable Puppies
If you have a soft spot for fur babies, and also boast a diehard travel gene, there's a way to satisfy both passions.
Grab your distressed denim, sunnies, and sunscreen, because this summer you can explore the world while taking care of adorable puppies.
TrustedHousesitters makes every pet lover's dream come true by establishing a global community for them to connect and help each other fulfill their passions for animals and traveling.
It's a mutually beneficial process, in which the pet owner's home and pooch (or horse, or bunny...) will be in awesome hands while they're away, while the pet-sitter gets to enjoy free, unlimited vacations across the globe.
Get ready to feed your wanderlust throughout the sizzling season, without breaking the bank.
Real talk: What's better than that?
Here's How It Works
Pet owners network with a pool of verified pet-sitters. A pet owner will upload a post with requirements and details for the potential pet-sitter to meet (for example, when the sitter will need to feed the pet).
The owner will also include details about the house, in addition to fun, local tourist attractions.
Pet sitters will send in their applications, in addition to listing the qualifications that set them apart from the rest. A three-step verification process is also required, which includes a background check.
The pet owner will then select the ultimate match to take care of their home and pet (or pets) while they're away.
Travelers and pet owners alike have saved an approximate $218 million in travel expenses and pet care costs, all thanks to TrustedHousesitters.
If you're totally in love with everything about this travel lifestyle, it's prime time to get planning.
Here's A Little Taste Of What You'll Find On TrustedHousesitters
1. Charming Edwardian house with a "well trained, calm" 3-year-old golden retriever, conveniently located just one block away from San Francisco's spectacular Golden Gate Bridge.
2. Home with large salt water pool in Winter Garden, Florida, with three golden retrievers. The house is located on the lake, with a dock and cozy bench for fishing. It's just 30 minutes away from Disney and Orlando.
3. Stone farmhouse in the exquisite countryside of the south of France, with two dogs and two cats who love to cuddle. Restaurants and shops are just a few minutes away via car, and vineyards and forest encompass the property.
4. Beautiful villa in a quaint village close to Bodrum, Turkey, with three small dogs. This three-bedroom home has a large garden and pool, dining room, kitchen, three bathrooms, and lounge.