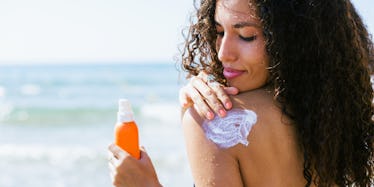 This Is The Type Of Sunscreen You Should Actually Be Wearing This Summer
One look at my almost transparently pale skin should indicate to you that the sun and I are hardly the best of friends.
Truth be told, we're barely acquaintances, but I still love the outdoors and staying active.
Once winter's over and nice weather ensues, all I want is to be out of the house.
Unfortunately, whether you're a regular Icarus toying with extensive sun exposure, or you only occasionally make an outside appearance to soak up some vitamin D, UV rays can do more harm than good if safety precautions aren't taken.
So it's safe to say, choosing what kind of sunscreen you use this summer shouldn't be taken lightly.
Ultimately, your choice of SPF will depend on details such as your skin type, how you're spending your time under the sun, and for how long.
You want something that'll last all day.
If you're planning to spend your summer pool-side, you'll obviously want to keep away from quick applications that are bound to wash off after a dip.
Water-resistant formulas such as Neutrogena's Beach Defense Spray, Banana Boat Sport Performance Lotion, and Sun Bum's Signature SPF 50 Face Stick keep skin safe for up to 80 minutes at a time.
Be sure to reapply, especially when wading in the water or lying out on the beach for long periods of time. According to the American Academy of Dermatology, water and sand "reflect the damaging rays of the sun," which can actually increase your chances of getting burned.
Vacation: still all you've ever wanted?
Neutrogena Beach Defense Spray, $8, Amazon; Banana Boat Sport Performance Lotion, $9, Amazon; Sun Bum Signature SPF 50 Face Stick, $18, Amazon
You want something that will be kind to your skin.
If you have sensitive skin that's prone to breakouts, opt for a non-oil-based formula, no matter how long you plan on being in the sun.
Formulas such as Clinique's Broad Spectrum SPF 50 Sunscreen Face Cream and CeraVe SPF 50 Sunscreen Body Lotion were developed specifically for oily skin, with water bases and gentle ingredients like oatmeal to ensure humid conditions won't cause or worsen acne.
Clinique Broad Spectrum SPF 50 Sunscreen Face Cream, $23, Sephora; CeraVe SPF 50 Sunscreen Body Lotion, $12, Amazon
You want a sunscreen that's as active as you are.
Maybe you're on a seasonal sports team, or perhaps you regularly get the girls together for beach volleyball. As crucial as it is to stay hydrated by drinking a ton of water, it's equally as important to apply, reapply, and reapply again when it comes to your sunscreen.
In this case, it's key to find a sweat-resistant SPF that adheres to your activity level.
Try Shiseido Sun Protection Liquid Foundation and Sun Protection Stick Foundation if you're subject to the facial drip minutes into a match, or the Raw Elements Eco-Form Sunscreen if reapplying constantly isn't a priority.
Sun's out? Suncreen's on. Period.
Shiseido Sun Protection Liquid Foundation and Sun Protection Stick Foundation, $28, Sephora; Raw Elements Eco-Form Sunscreen, $16, Amazon