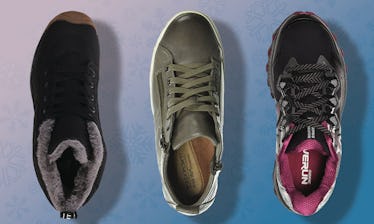 The 8 Best Winter Sneakers For Women So Your Feet Stay Warm & Cozy
We only recommend products we love and that we think you will, too. We may receive a portion of sales from products purchased from this article, which was written by our Commerce team.
Everyone likes a cute pair of shoes, but footwear needs vary based on location, weather, and lifestyle. It almost goes without saying that the best winter sneakers for women should always be warm, durable, and slip-resistant. Even so, every element of a sneaker's design can play into this, from its overall shape, to the materials used, to the construction of its sole.
When it comes to the shape of your shoe, a mid-top or high-top sneaker is great for winter, as it offers the comfort of a trainer with the taller shaft of a cold-weather boot. This extra coverage protects your ankles from lower temperatures, cold winds, and unexpected snowfall.
As for the materials, the shoe's upper will affect how well it fends off cold, wet weather. Leather is a durable, breathable, and warm material that's perfect for colder days. Wool is another popular material for winter sneakers as it's lightweight, cozy, and breathable. More budget-friendly shoes are often made of synthetic materials, which typically aren't as durable — but they can work for milder and drier winter days, especially when paired with a warm pair of socks. Some sneakers are already waterproof, but if you end up purchasing a non-waterproof pair, you can reinforce them with a waterproof spray for shoes.
Another thing to think about is reliable traction on snow and ice. Most shoes designed to prevent slipping will feature an outsole made of softer, stickier rubber to help you cling to the ground. But more importantly, look for a shoe with deep grooves in its tread, which will offer you more traction on wet surfaces. This is especially crucial if you're looking for winterized running shoes to wear outdoors.
Lastly, the interior of the shoe can really impact its ability to insulate your toes from the cold. A shoe that has some kind of extra lining, whether it's faux fur or another soft fabric, will help your feet stay warm and cozy on the coldest of days.
From leather high-tops to wool slip-ons, here are the best winter sneakers for women available on Amazon.
This article was originally published on