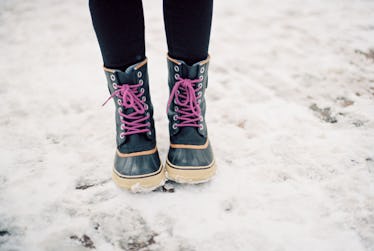 5 Cold-Weather Boots That Amazon Reviewers Swear By During The Winter
stocksy/Daniel Kim Photography
When you're walking in chilly weather, the last thing you want is footwear that's soaked through. Luckily, the best cold-weather boots will protect your feet and keep them dry — without any awkward bulk.
Before you buy, there are a few key things to look for in a good pair of boots
Waterproof material. Because most cold weather is accompanied by snow, freezing rain, or ice, choosing boots that are waterproof, or at the very least, water-resistant is essential.
Excellent traction. A pair of snow boots with extra deep treads to help prevent slipping if the ground turns icy, which — let's face it — it will.
Double layers (or an extra interior lining). You'll also want to make sure your boots are insulated well on the inside. While some boots are lined with luxe suede and authentic sheep's wool, even just an extra layer of fleece lining can help trap in more warmth.
With so many choices out there, it can be tricky to figure out which boots are worth the price and which ones will end up leaking. Here, shop a roundup of some of the best cold-weather boots to help keep your comfortable as the temps drop.
This article was originally published on