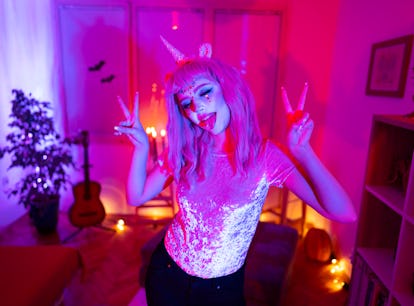 10 Purple Costume Ideas You Haven't Thought Of Yet
Because purple reigns supreme.
SrdjanPav/E+/Getty Images
Choosing an outfit for Halloween is hard enough, but that challenge becomes even harder when you're looking for costumes in a specific color. Deciding on a pop culture Halloween costume or a Halloween costume that goes with your hair color is easy, but the choices narrow if you want your costume in, say, a specific shade of lavender, violet, or aubergine. That said, you should follow your heart wherever it leads during spooky season, even if every path takes you straight to the same color palette. For Halloween 2022, stop racking your brain for the perfect purple Halloween costume and just use this list instead.
Whether you're looking for modern-day inspiration from this year's most viral TV shows — I'm not talking just about Euphoria, but I'm not not talking about Euphoria — or prefer to throw it way back to beloved characters from yesteryear's books and movies like Scooby Doo and Alice In Wonderland, these 10 purple Halloween costumes will have you ready for spooky season in no time. As always, there are plenty of easy costumes to choose from along with some more complicated ensembles for folks who fall more on the Heidi Klum end of the Halloween costume dedication spectrum.
We may receive a portion of sales if you purchase a product through a link in this article.