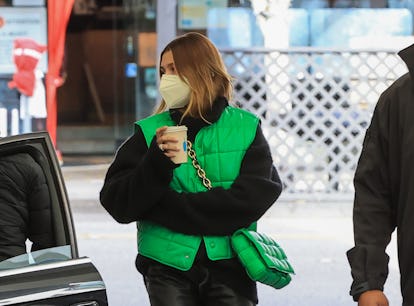 20 Puffer Bags & Quilted Purses To Snuggle Up With
Puffer bags are the latest purse style turning heads in the fashion world which, honestly, makes so much sense. Comfy clothes like lounge sets and sweatsuits have become super trendy since the 2020 lockdown, and now the cozy vibes are spreading into the world of accessories. Rather than just rocking your softest clothes, you can practically carry a pillow, courtesy of trendy puffer bags. They're padded, quilted, and comfortable enough that you could use one as a head rest in a pinch.
Puffer bags have also been all the rage on the high fashion runways as of late. Miu Miu, Bottega Veneta, Saint Laurent, and Off White all have their own versions of the purse. As different as they all may look, each features a quilted style reminiscent of a puffer coat packed up with so much stuffing, it puts Build-A-Bear workers to shame. Even though it's a favorite style of high-end designers, don't worry. You don't have to break out the luxury fashion money to snag your own puffer bag. These 20 options, all under $30, are a great place to start. It really doesn't get any cuter — or comfier — than this.