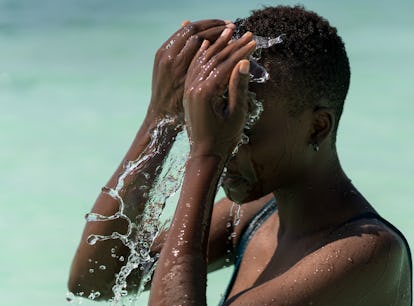 You'll Want To Slather These May Skin Care Drops All Over Your Body
Jasmin Merdan/Moment/Getty Images
When I was a teen — approximately a million years ago — skin care was all about the attack. In 2022, skin care has pivoted to protecting your skin barrier from sun, from environmental pollutants, and, sometimes, from your own attacks with alpha and beta hydroxy acids (AHAs and BHAs) and other harsh ingredients. Summer skin care also previously featured lots of rough, physical exfoliators and toners to dry out summer breakouts. For May 2022 skin care releases, brands are dropping products that'll help your skin be its healthiest with boosted skin barriers, lots of hydration, and gentler exfoliation than offered in past seasons.
Chances are, you spend more time sweating outside in the summer months and your skin care routine needs to account for that. It's tempting to go hard with harsh ingredients in the warmer months when your skin can produce more oil thanks to an increase in sweat and other seasonal factors. Dr. Naissan O. Wesley, a surgical dermatologist based in L.A., previously told Elite Daily that swapping to more lightweight products — you won't find any heavy creams on our must-have May skin care release list — is one option for folks worried about extra oily summer skin and resulting breakouts.
This month, the name of the game is definitely lightweight and I'm obsessed with products that are effective enough to meet the needs of summer skin, but gentle enough to support the skin barrier. From new SPF products with little to no white cast and body washes that leave your skin supple and refreshed, these are the brand new skin care products I am *literally* slathering all over myself.
We at Elite Daily only include products that have been independently selected by our editors. We may receive a portion of sales if you purchase a product through a link in this article.
Make sure to come back throughout the month for more exciting new product drops.
Expert cited:
Dr. Naissan O. Wesley, Los Angeles-based surgical dermatologist