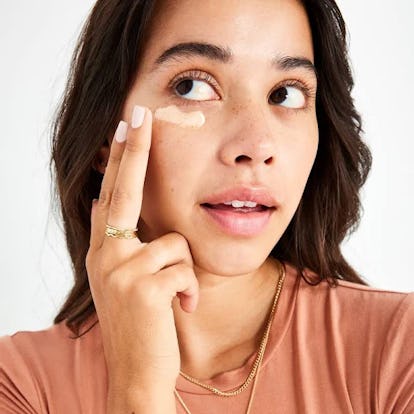 10 Eye Brighteners So Good You'll Always Look Like You Got A Full Night's Sleep
Move over coffee, there's a new hero in town.
Model applying First Aid Beauty's Niacinamide Eye Brightening Cream to her under eyes.
Your eyes show it all. No matter how much makeup you put on, if you're feeling tired or puffy at all, your eyes can't hide it. But that doesn't have to be the case. You can make your under-eye area sing even on your roughest of mornings with an eye brightener that'll make you look like you just clocked 10 peaceful, restful hours and are ready to take on the day.
Since the skin around the eyes can be super sensitive, you'll need to find the best formula for you before just buying an eye brightening cream. Luckily, there are many key ingredients heralded for their eye-brightening abilities that you'll want to look out for. Vitamin C helps prevent sun damage, works against dark spots, and can help with anti-aging; and collagen in your eye products helps build elasticity and keeps your eyes looking awake and bright.
Eye brighteners can take your toughest mornings and turn them around in a matter of seconds. No matter if you're getting eight hours of sleep or just three, you can look present, dewy, and bright with one of these eye creams. Trust me, your eyes will be thanking you.
We only include products that have been independently selected by Elite Daily's editorial team. However, we may receive a portion of sales if you purchase a product through a link in this article.
Bright, refreshed, and ready to take on the world, your new eye-cream-wearing life promises nothing but wins in your future.