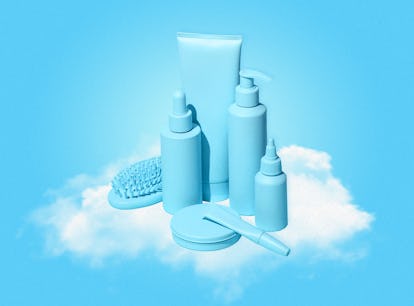 June's Must-Have Beauty Products Include Lip Stains And Tinted Moisturizers
Super new and super fresh. ✨
Elite Daily
Now that June is in full swing, I can finally share (most of) the month's new beauty launches with you. I've been testing the latest mascara, powder, and palette launches for a couple of weeks and have put the products below through every conceivable summer beauty test. I've worn them in the pool at a backyard barbecue. I've sweated through them to and from the office, on date nights, and even at the gym because I'm dedicated to my beauty product testing and also because it's hot AF outside and summer makeup needs to withstand a lot.
What exactly does a new summer launch have to hold up against in order to be considered one of "the best," at least by my exacting standards?
Long-wear capabilities: I don't need every single makeup product I wear during the summer months to be fully budge-proof, but I do look specifically for long-wear products. A lipstick or eyeliner gets a pass from me if it doesn't hold up through a surprise dunk in the pool, but I'm not looking to reapply four times a day (that's for SPF only).
Gentle ingredients: More than any other time of year, summer calls for extra-gentle, non-irritating ingredients. Between sun exposure, high temps, and seasonal allergies, my skin is always one irritant away from breaking out into a rash.
Waterproof whenever possible): I've worked in beauty long enough to know that it's unrealistic to expect a full face of makeup to stay on through a thunderstorm or a cannonball contest, but I do expect it to stay put during say a light rain during a music festival or an afternoon spent lounging on a lazy river.
Ahead, you'll find the makeup launches I'm most excited about this month. Some are available right now, some are on the way, and all of them are super fresh.
We at Elite Daily only include products that have been independently selected by our editors. We may receive a portion of sales if you purchase a product through a link in this article.
Make sure to come back throughout the month for more exciting new product drops.