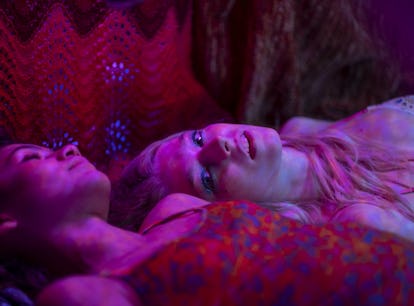 Keep Your Makeup Bag Euphoria-Inspired With These Neon Beauty Products
Forget #TeamMaddy and #TeamCassie, I'm Team Glitter Eyeliner.
If you're anything like me, then Euphoria Season 2 probably left you with a lot of unanswered questions, plus a sudden, unquenchable thirst for neon makeup. Though the second season of the Zendaya-led series didn't quite live up to the level of beauty inspo as the first season, that just made the beauty moments we did get really pop. Every throwback moment in Lexi's play, every rhinestone applied to a lower lash line, and every liner winged out past a brow bone brought a little surge of joy to my makeup-obsessed heart. So I've been on the hunt for neon makeup so that I can live out my own Euphoria-inspired beauty moments. And lucky for you, I'm willing to share my finds with the class.
Now that Euphoria Season 2 is over and we've got at least a year to go, I'm planning to fill the Maddy-shaped whole in my heart with a lot of bright neon makeup looks and these are the products that will get me there. Whether you're looking back wistfully at Jules' iconic neon rave makeup from Season 1 or are aiming to recreate your very own Cassie-losing-it-in-the-bathroom-mirror moment, you're going to need a little more than your average eyeliner to make it happen.
Below, you'll find a carefully curated list of must-have items that deliver bright pops of color in felt tips, pots, and palettes so you can transform your makeup into the ultimate fever dream fantasy. When you need a hero, these neon makeup products have you covered.
We only include products that have been independently selected by Elite Daily's editorial team. However, we may receive a portion of sales if you purchase a product through a link in this article.