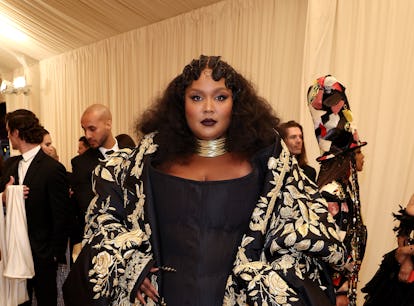 From Corkscrew Nails To A Coat That Took 22,000 Hours To Make, Lizzo's Met Gala Look Was Perfect
Lizzo, can you open my wine, too?
Arturo Holmes/MG22/Getty Images Entertainment/Getty Images
Lizzo can do no wrong, and her 2022 Met Gala look, in all its gilded glamour glory, is proof. Making her grand appearance on the red carpet, Lizzo wore a custom Thom Browne look, with a few key details that push this outfit over the top in the best way possible. The foundation of her look is relatively unassuming: a floor-length, structured black gown with a corset bodice and cutout of fabric around her thighs. Rather, it's the clever, embellished additions to her look that hold an unreal amount of effort.
Lizzo walked the red carpet in her Met Gala look followed by two people carrying the train of her outstanding coat, which she revealed took 22,000 hours to make. A closer look at the coat shows yards and yards of rich, gold, floral appliqués, delicately stitched and beaded to perfection. This ornate, floral design is reminiscent of the opulent damask fabric patterns and treatments often seen in the gilded age, the subject of the 2022 Met Gala theme, "In America: An Anthology of Fashion."
If you get lost in the opulence of her coat, you'll miss another key part of Lizzo's look: her nails. Painted with black polish as a base, Lizzo's signature long nails not only complement the gold details of her coat, but they're useful in a pinch, too. The ends of the singers nails taper off into 3D gold spirals, or, as Lizzo described them on the red carpet, "corkscrew nails" that could open everyone's wine at the Met Gala. She gives and gives and gives, and we are not worthy to receive!
Lest we forget what is perhaps Lizzo's most important accessory for the night: her flute. While Lizzo fans are more than familiar with the singer's usual flute, Sasha (@sashabefluting on Instagram), Lizzo debuted a brand-new, incredibly special flute that matched her outfit for the 2022 Met Gala: Gilda Ronstadt. Lizzo revealed the all-gold, Dryad's Touch flute on Sasha Flute's Instagram account a few days before the Met Gala, playing it in a video for fans.
Flute, coat, and nails aside, the rest of Lizzo's 2022 Met Gala look came together flawlessly. Her hair was styled in finger waves at the root and slightly teased out in soft waves at the ends. Her makeup look was the cherry on top of this dark and gilded vibe, with a heavy contour, soft smokey eye, and dark berry lipstick.
All in all, it's about damn time I see a look this good on the 2022 Met Gala red carpet.