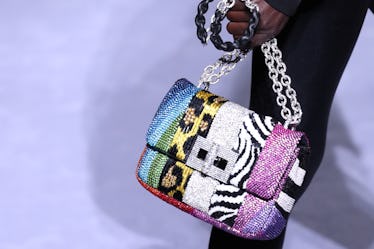 Throw Your Plain Black Purse In Storage Because Fall 2018 Bag Trends Are All About Vibrance
Gone are the days when carrying a simple top-handle purse with a streamlined design and premium leather details was the epitome of trendy. Fall 2018 bag trends are all about the weird, the bold, and the out there, so get ready to completely overhaul your collection of carryalls.
From vibrant colors and furry details to all-over glitz and fun-sized pouches, the elements that make bags so unique this season are nothing short of eye-popping. Some styles require a more fearless dresser than others, while a few of the trends go with pretty much any look or aesthetic. Check them out below.
Fuzzy Feelings
It's no secret that all things mid-aughts are back and now, fuzzy bags will join the ranks of the velour jumpsuits and scarf tops that are having a major resurgence. Designers including ADEAM, Alexander Wang, and Balenciaga all sent plush purses down their runways, and they're honestly the coolest way to cozy up your look.
Neck & Call
If you typically roll light, meaning the contents of your purse could fit into a large coin purse, then you might be among the few who could legitimately give this trend a try. Wearing small satchels and bags around your neck has never been cooler or more glam. Iterations flooded the runway at Giambattista Valli, Marc Jacobs, and Jacquemus, and were dainty and quite beautiful.
Neon Dreams
Sorry deep berries, muted nudes, midnight black, and classic earthy tones — bright neons are here to overtake your fall fashion rule. Balenciaga, Prada, Moschino, and more gave their bags the acid shock treatment this season, rendering any look paired with one of the carryalls futuristically rad. If you've been looking for a foolproof way to infuse your style with some unique flair, try reaching for the neon.
Like A Diamond
Blindingly bedazzled bags in clutch form stormed fall runways, blinding show-goers at Alexander Wang, Tom Ford, Moschino, and more. They're the ultimate party bag and come in an array of shapes and sizes. Why not splurge on one for all of your luxe nights out?
Ball & Chain
Chain straps for bags are nothing new, thanks largely to Chanel and its classic flap bag. But this season, the chains take shape in many unique forms, namely to look like those metallic ball chains that the cheap necklaces of our childhood used to be made of. Trust me, though, there's nothing cheap-looking about these. Dolce & Gabbana and Beautiful People each turned to the ball chain look for the straps of their bags, while Chanel kept it more classic with interlocking links. Which style do you prefer?
Clearly, there's nothing tame or subdued about the hottest bags for fall. They're here to make a major statement and reveal their wearer's personality along the way. Seeing as fashion is in this beautiful time when sartorial personality and individuality are held in the highest regard, it comes as no surprise. Carry on!