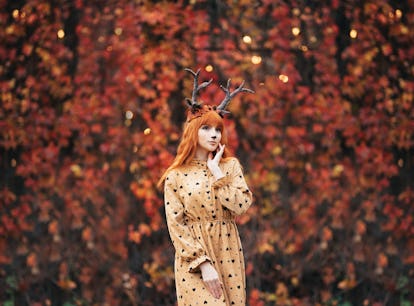 9 Cute Deer Halloween Makeup Looks You Won't Have To Shell Out Doe For
Shutterstock
If going casual and cute while celebrating Halloween is your style, nothing beats showing up to your parties or greeting trick-or-treaters as a deer. It's not only one of the most beloved and majestic characters in the forest and in storybooks (I mean, how cute is Clarice in Rudolph the Red-Nosed Reindeer? And do we even need to talk about Bambi?), but it's a simple way to humble brag and show off your gorgeous features with some extra luxe lashes and a serious pout. These nine cute deer Halloween makeup looks are sure to make you a showstopper no matter how you celebrate All Hallows' Eve this year.
Whether you're a ride-or-die Barbiecore fan or only participate in beauty trends inspired by glazed doughnuts, you're basically guaranteed to find a deer makeup for Halloween that speaks to you on this list. From contouring, throwing on — or DIYing a pair of — fake antlers, adorning yourself with flowers and glitter, or playing up your peepers for a serious doe-eyed look, each of these looks has a little something extra to play up your makeup skills. There's even a fast and easy deer makeup look for those of us who don't know how to contour (and don't care to learn) or for folks who only have five minutes before they've got to catch an Uber to the spooky season event of their choosing.
Many of these looks are fairly simple to execute and can probably be done with makeup you already have lying around on your beauty counter or in your makeup bag. Of course, there's some mega-glam thrown in because sometimes you want to go hard. Grab a black eyeliner, a skin-toned lip color, and your favorite blush or bronzer, and get ready to make these clever deer-inspired looks come to life.
This article was originally published on