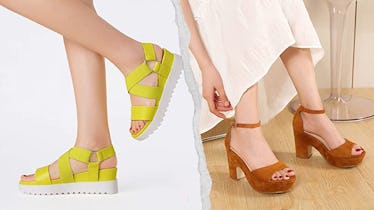 20 Super Comfortable Shoes Under $50 That Will Give You Height
Finding comfortable shoes that make you taller can be a struggle if you don't know what to look for. For years, I teetered around in super uncomfortable stilettos because I loved how I looked with a few extra inches, but my feet paid the price. These days, I stick to platform sneakers when I want a little more height and they're much more comfortable. I've got my go-to's, but there are dozens of comfy platform shoes out there that look amazing, feel great, and won't break the bank either.
Even though I'm a ride-or-die believer in a pair of 2-inch stacked Vans, the platform sneaker look isn't for everyone and there are many more shoe styles that you look taller without making your feet hurt. Believe it or not, even stiletto heels don't have to be uncomfortable. There are design tricks that can make most shoe styles wearable all day, six-inch heels included.
To figure out the most comfortable shoes for women, men, or nonbinary folks looking to add a few inches to their height, I asked NYC-based stylist and editor Audree Kate López to explain what exactly makes some shoes feel amazing and others feel like torture. López has a five-point criteria for shoe comfort that makes the shopping process way simpler, even online when you don't have the option to try before you buy. Here's what to look for when choosing a pair of high heels or platform shoes for comfort:
What Makes Platform Shoes Comfortable?
There are five important factors that can make platform shoes a pain or a pleasure to wear, according to López:
One of the stylist's top concerns is arch height. "If you have a heel with a steep arch where most of your weight is on the ball of your feet, it can become uncomfortable throughout the day," she says. So, while arch support isn't bad, when it comes to heels, your foot is often being manipulated by a high angle arch instead of being supported, which can be painful. Platform shoes — especially the "flatform" shoes coming back into vogue, thanks to the surge of Y2K fashion — have almost no arch, which many find to be more comfortable as the day goes on. López also recommends wedges if you're looking for a heel with a softer arch.
Sole thickness is also important to consider. "A thicker sole has more cushion, protection and can absorb more of the impact when your feet hit the ground," says López. This is another reason why many platform shoes are so comfortable. In addition to having little to no arch, platforms have thick soles.
The thickness of the heels themselves should also be factored in and, as López explains, can be more important than the height of the heel itself. "A thicker heel provides more support, better balance, and is more stable than a skinny stiletto," she says.
If the shoe has straps like many high heels and sandals tend to, the comfortability and security of the straps are very important. López recommends straps that look and feel strong enough to hold the foot securely, but not so tight that they'll squish your toes or cut off circulation.
Rounding out López's list of factors that affect shoe comfort is the material the shoes are made of. "A soft leather or vegan leather lining creates instant comfort while a patent leather, vinyl, PVC, or plastic can be very uncomfortable and will not stretch or form to the foot," she says.
Keeping these five factors in mind when you pick out shoes will help you avoid winding up with blisters or aching arches. Below, you'll find our carefully curated list of shoes that prioritize comfort and will add a few (or more) inches to your height — and all for under $50.
We only include products that have been independently selected by Elite Daily's editorial team. However, we may receive a portion of sales if you purchase a product through a link in this article.
Expert cited:
Audree Kate López, fashion stylist