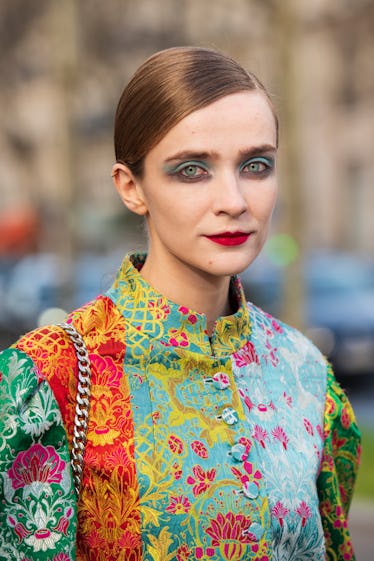 7 Colorful Eyeshadow Looks You Can Nail With Your Eyes Closed
Get ready for eyes that absolutely pop.
Kirstin Sinclair/Getty Images Entertainment/Getty Images
One of my absolute favorite things in the world is colorful eyeshadow. Just a dash of a vibrant shade on your eyelid can change your whole look, and you don't even need to break out millions of makeup tutorials to recreate a bright eye at home, on your own. All you need is some daring energy, at least one fun palette, and you're off to the races with tons of inspo for your next colorful eyeshadow look.
I consider myself an expert in DIY colorful eyeshadow looks. While I love nothing more than layering on the colors, I've also refused to ever learn how to do a proper cut-crease look or anything else that requires actual skill. So, when I say these makeup styles are easy, I mean easy. Some of these can even be mastered without brushes and in five minutes or less. So if you're ready to test them out but feeling a little nervous, know there's nothing to fear in the least.
There are many different kinds of colorful eyeshadow styles out there. You can go down a single shade route or try out a halo style, or if you're really feeling the rainbow fantasy, load up as many colors as possible. The limit does not exist when it comes to playful eyeshadow.
So, grab your most exciting palette, set up your mirror, and try out these easy, eyeshadow looks.
You don't need to go to beauty school to master colorful eyeshadow, just try these looks instead.