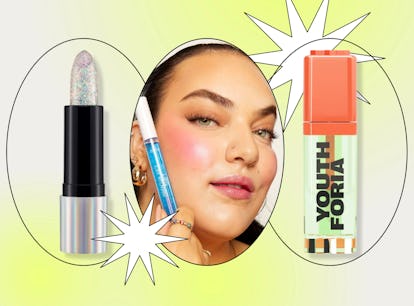 8 Color-Changing Makeup Products Worth The Hype, According To TikTok
Even better, the viral goodness starts at $4.
Essence/Tarte/Youthforia/Elite Daily
We may receive a portion of sales if you purchase a product through a link in this article.
Makeup is like magic; it's powerful, transformative, and even mood-enhancing. And with color-changing products, those who grew up loving mood rings can have their own adult version of something that transforms right before their eyes. There's nothing more fun than seeing what shade you end up with, and that's why color-changing makeup products are totally taking over TikTok. 'Cause, come on, what's more fun to film than something that is going to look a little different on everyone who wears it?
How Does Color-Changing Makeup Work?
Color-changing products work due to the pH levels of the product interacting with the pH levels of your skin. This is why blushes and glosses can appear clear in their container or upon initial application, only to turn into a shade of pink or red once it hits your face.
But Not All Color-Shifting Products Are Created Equal
There are claims that color-changing foundations on the market do the same thing as other shade-shifting products, with many brands promising to perfectly match them to your skin tone. But TikTok users like @missdarcei were quick to point out that these "one-color-fits all" promises don't hold up when people with darker skin tones try them out. @Missdarcei even tried out multiple color-changing foundations that still left a white cast on her skin. For that reason, below you'll find only color-changing blushes, lippies, and even some eyeshadows — no foundations — that look different depending on what light you're in.
Here are the best color-changing products available right now that are completely worth the hype, according to TikTok.