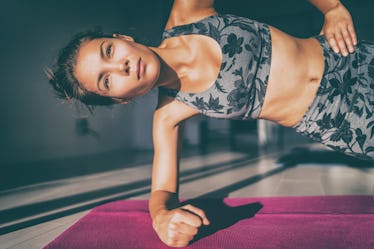 The 10 Best Sports Bras Without Removable Pads
Get all the support you need, without annoying slippage.
Shutterstock
We may receive a portion of sales if you purchase a product through a link in this article.
The upside of removable pads is occasionally offset by their tendency to slip, fold, or misshape after washing. So, if you prefer to worry about the yoga position you're in rather than the position of the pads in your bra, keep reading for the best sports bras without removable pads that still offer support and shape — you have a few styles to choose from, like sports bras with molded cups, sewn-in pads, and more.
What To Consider When Shopping For Sports Bras Without Removable Pads
If you like the idea of padding in general but don't like the removable aspect, you might want to opt for a bra with sewn-in pads, which will offer shape, volume, and extra nipple coverage without the hassle of removable pads. You also won't need to worry about taking the pads out when you wash your bras. Another option is to go for encapsulating sports bras, which have built-in molded cups that individually cradle each breast for shape and support. (This style is especially beneficial if you have a bigger bust.) And if you're not into padding at all, a racerback bralette, with or without compression, can be a comfier alternative that's well-suited for low-impact activities like yoga, Pilates, or even everyday wear.
Whether you're an avid runner who needs major support or a yogi looking for something comfy and flexible, keep reading for a list of the best sports bras without removable pads.