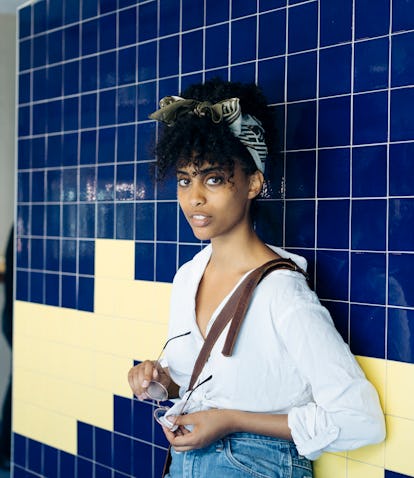 These 11 Silk & Satin Hair Accessories Will Protect Your Curly Hair
Breakage? Don't know her.
Westend61/Westend61/Getty Images
We may receive a portion of sales if you purchase a product through a link in this article.
Curls need extra TLC, and that special attention extends beyond deep conditioning treatments, oils, and curl creams into styling accessories and even how you sleep on your hair. It may sound extra, but the payoff of getting deep in the silk hair accessories game makes it all worth it. Protecting your hair with silk doesn't have to cost you a fortune, either. Satin, a blended fabric that provides hair with the same slip at a fraction of the cost of silk, also delivers major benefits to curly hair.
After all, curls are needy, says celebrity hair stylist Mia Santiago. "Curls get dry faster than hair that's straight or wavy because the oils from the scalp doesn't get down to the bottom as easily and you can't continue to brush your hair [to distribute the natural oils from the scalp]," Santiago tells Elite Daily. "So people with curls have drier, more fragile ends." Fragile hair is more likely to break, especially around where it's stressed — like the spot on your head where you usually have your ponytail or near the nape of your neck where the hair is tugged up and pulled hard.
Luckily, welcoming the following silk and satin bandanas, scrunchies, pillowcases, and towels into your hair routine will keep your curls protected, hydrated, and healthy.